Detroit, one of the world's great comeback cities. Throughout this series we'll be spending time with the entrepreneurs, artists and musicians helping to restore the city to its former glory, thanks to a new wave of passion and innovation. Today we assess one of the city's flagship brands...
"An integral part of any Detroit dinner party is the bit where everyone compares their Shinola watches, so come on, let's see 'em." Local news anchor Devin Scillian stretches his arm to the sky, revealing a glistening watch face, as he encourages the 400 other Detroiters in the room to follow suit. "Looking good, guys."
While not everyone in attendance at the start-up pitching event that Scillian is hosting can play along, there's a strong smattering of proudly raised arms. It's a Thursday afternoon in Detroit and once again, Shinola is dominating conversation.
A worker in the Detroit Shinola factory | image credit: Mark Potts
While Bedrock Real Estate, fronted by billionaire entrepreneur Dan Gilbert, is among those providing the hard cash to regenerate much of the city, there's no question which company is telling Detroit's story both inside and outside of the city limits. But is Shinola a sign of much better things to come or part of a trend that should concern locals?
While the Shinola brand as we know it began life in 2011, under the stewardship of Fossil founder Tom Kartsotis, its story actually begins back in 1907. Founded in New York at the start of the twentieth century, Shinola shoe polish would gain traction throughout the thirties and forties, before going out of business in 1960.
Read: Start-ups in the Motor City
The name would later resurface when the World War II colloquialism, "You don't know shit from Shinola" was used in conversation in a meeting held by the brand's parent company. The name stuck and the brand was soon restored, basing itself inside Detroit's College for Creative Studies – this time focusing on watches, leather products and bicycles.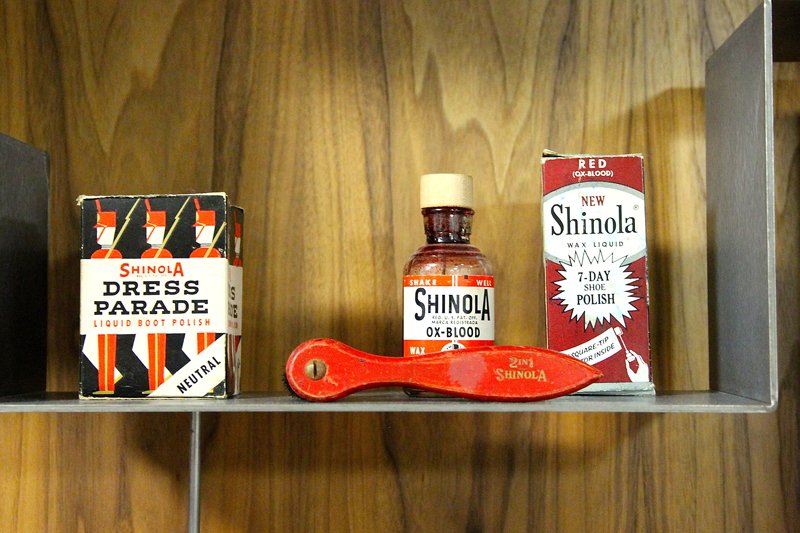 Image credit: Mark Potts
Over the last four years Shinola has gone on to record excellent sales figures, receive international praise, revive the seemingly lost tradition of American watchmaking and put many locals back into work. Unlike other luxury lifestyle brands Shinola's headquarters allows them to house creative and factory staff in the same building, enabling a fluid design to execution workflow.
Detroit's comeback is currently being closely documented by the world's media, but before its resurrection had become a well-worn narrative, the Shinola team had realised the power of the story arch. The brand's 'Where America is Made' tagline plays heavily on the city's proud manufacturing traditions and classic design elements – but how key has this been to their success?
"We have to stay on our toes when we're telling our story, for a start we have a name that's affiliated with the word shit," notes CMO Bridget Russo.
"We have a lot further to go but have managed to get some great brand recognition so far. It's been the perfect storm of our branding, the story of Detroit and the rise of the whole makers movement. From the beginning we were embraced by the design community, Shinola is the perfect brand for millennials who like product and branding."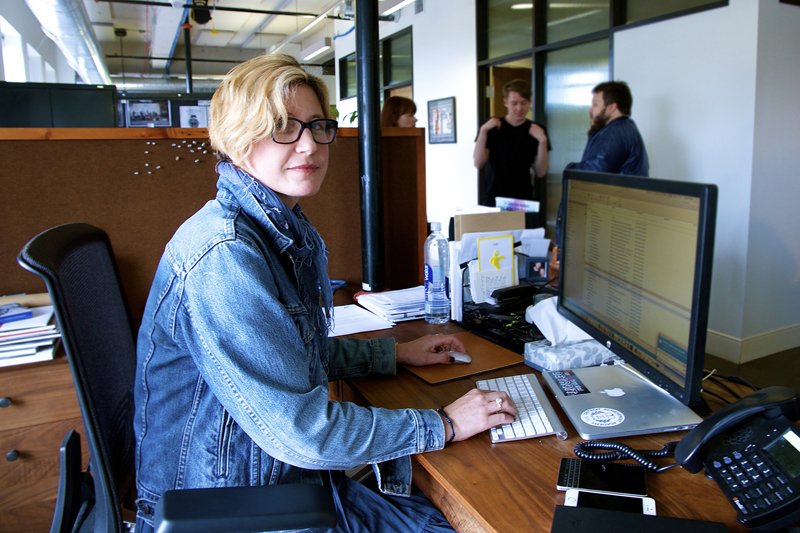 Bridget Russo | image credit: Mark Potts
While Shinola's decision to first base itself in the city, and then employ Detroiters, initially won over locals, it's been the alignment with the fierce pride of the Motor City that has seen it really take off. On a recent trip to the city Richard Branson sported a Detroit Hustles Harder t-shirt – the next day sales of the item sky-rocketed. Those loyal to the city have never shied away from telling its story, is the difference now that outsiders are willing to listen?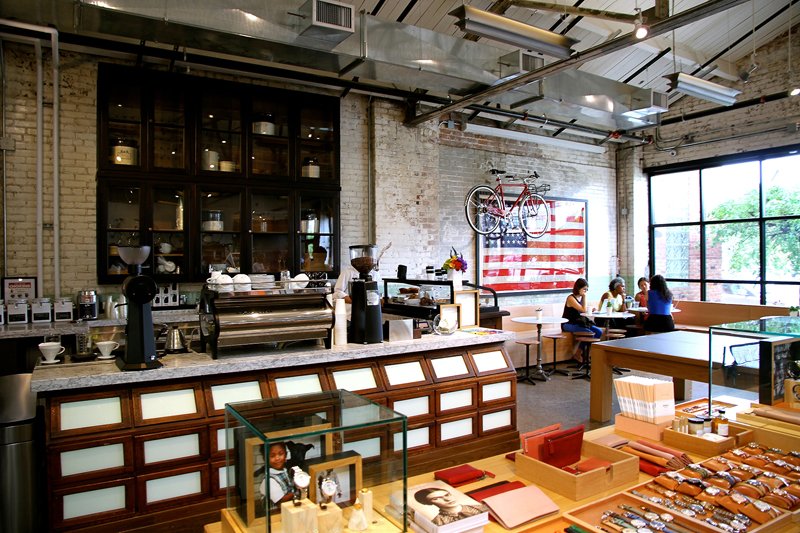 A Shinola store in Detroit | image credit: Mark Potts
"There was an obsession for some time with the bankruptcy and photo galleries of 'ruin porn' online. When I moved here my mum thought I was crazy, but I could see things were about to change. People forget that New York itself was so close to bankruptcy, every city has its problems," explains Russo.
"Two years ago, when I told people I lived in Detroit, they would feel sorry for me and tilt their head to the side. Now when I tell people they're fascinated, they can't ask enough questions. It's a great place to be, it's the most exciting city in the US to be living in."
Read: How manufacturing turned to arts in Detroit
Step inside a Shinola store and you could be easily forgiven for thinking you had been teleported to Brooklyn or Shoreditch. There's the exposed brickwork, industrial features, coffee merchant, pop-up florist and, of course, the beautifully crafted products. Not only that, the mere presence of a new Shinola store in a neighbourhood encourages many more businesses to open up in the vicinity – microbreweries, juice bars and clothing stores where all operating in the shadow of one we visited.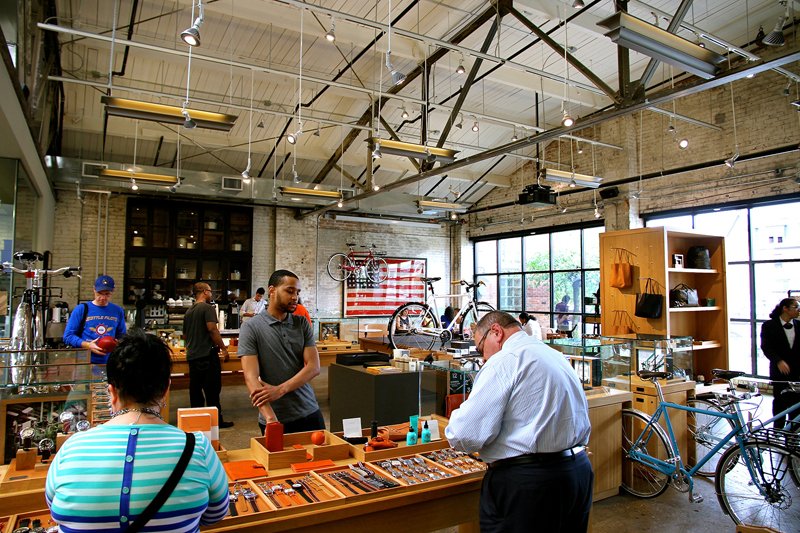 A Shinola store in Detroit | image credit: Mark Potts
This would be a bonus for any city, but when an area is as starved of retail options as Detroit is (trying to find a new pair of shoes in Downtown Detroit is still incredibly challenging), it marks a huge step forward. So, how much credit can the brand itself take for what's happening?
"None," clarifies Russo, firmly. "We are part of what's going on here but we would never take credit for it."
"The Brooklynization of Detroit is going to be terrible for Detroiters," claims a recent report by Quartz - with this the accusation, you can see who the first targets will be. There aren't many cities in the world who are as familiar with the problems (and to be honest, devastation) caused by large influxes and exits of workers, which makes concerns over the changing landscape wholly understandable. This time, though, it's not blue-collar working families and the motor industry, it's "white, college-educated artists and foodies" after an affordable house to live in and a job in the creative industry.
However, the reaction to these changes from within the city, on the surface at least, seem to be hugely positive. Detroit native Adriel Thornton, who grew up in the city and still works there running his business FreshCorp, is excited by what he sees taking place. "I grew up here, I decided to stay when so many people were leaving - not because I had to, but because I wanted to.
"What's happening here – regeneration, new jobs, new businesses, new people – it's genuinely exciting. It hasn't felt like this here for a long time."
A Shinola store in Detroit | image credit: Mark Potts
We encountered a similarly positive reaction when speaking with Brian R.F. Davis, another Detroit native who works at the Bamboo Detroit co-working space. "In school we used to have this saying – DDHS. That's Deep Detroit Hatred Syndrome, people from both inside and outside the city would suffer from it.
Read: What do the Detroit's signs tell us about its history?
"Now we're seeing all this change and it makes you feel proud. You can't have a poor urban core and successful suburbs, they're all linked together and should never be treated as separated. I think we're seeing something great take place."
As is often the case, those from outside the Motor City may fail to match the optimism being displayed within it. And if the sceptics continue to have their say then Shinola may need to prove itself to be a resilient brand as well as an aspirational one.