Detroit, one of the world's great comeback cities. Over the next few months we'll be spending time with the entrepreneurs, artists and musicians helping to restore the city to its former glory, through a new wave of passion and innovation. First up, we head over to the Detroit Design Centre to meet the Nordin brothers, two men who are pioneering a style of art which could only come from the Motor City.
The redevelopment of Downtown Detroit is currently one of the hallmarks of the city. Grand buildings that once stood empty for decades are now being rapidly restored to their former glory, with hotels, independent coffee shops, art centres and co-working spaces filling up the rows of architecturally diverse high-rises. From the gothic spires of One Detroit Centre and the art deco magnificence of the Guardian Building to the Roman Baroque stylings of the Wayne County Building, there are few cities which offer up such a fascinating cross-section of perfectly executed styles.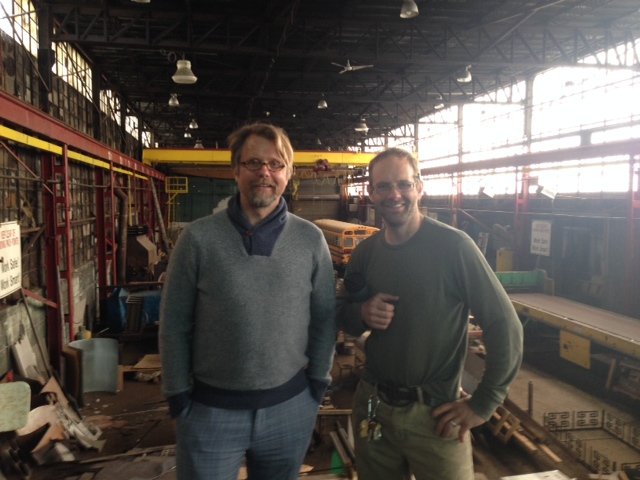 Image credit: Virgin.com
With this in mind, I wondered what inspiring setting the Detroit Design Centre would inhabit. As I stood on a gas station forecourt off Michigan Avenue, squinting back at the horizon of Downtown Detroit, I began to question why this was the place that Erik Nordin – one half of the Detroit Design Centre – had set for our meeting.
"Bet you're wondering what we're doing here, right, Jack?"
Thankfully all became quickly clear, as we made our way into the gas station to be confronted with the inviting smell of chilli tacos.
"This place is great, I've been eating here for ages but they just featured it in on local news, so now it gets kinda busy." He wasn't wrong, as throngs of burly construction workers joined us in line for their lunchtime fill.
As we made our way through the rice and steak we took the short walk up the road to the Design Centre. Situated behind a tall wire fence, on a rather dilapidated section of Michigan Avenue, you wouldn't have picked out the brutalist concrete block as the home of two of the most popular artists in the state, but once behind its sturdy metal doors you instantly get a sense of why the Nordin brothers are able to create art that genuinely excites.
Detroiters are ass busters, you need to be in order to be an artist in this city.
"First thing's first," explains Erik, "Detroiters are ass busters – there's a reason why I'm telling you this. You need to be in order to be an artist in this city, if we were in London or Paris it would be a lot easier to be an artist, those cities have a formula you can follow.
Read: What do the Detroit's signs tell us about its history?
"Places like New York have things such as gallery space and funding for artists, you don't get that in Detroit. Here you just get given an open palette, if you want to do something you just need to get it done your own way, you're not going to be getting much help."
Getting stuff done, it quickly became clear, is something the Nordin brothers are rather adept at. Having bought their 10,000 square foot of studio space from their father in 2000, after he retired his scrap metal business which previously inhabited the hanger, they adopted a learn on the job approach to art and sculpture.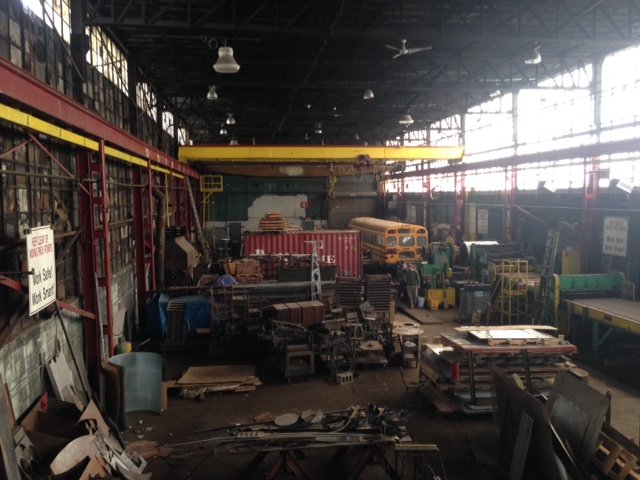 Image credit: Virgin.com
The duo describe themselves as "artists who create objects for spaces" and are responsible for many of the statement pieces you will come into contact with in Detroit, as well as many of the other Great Lake cities.
"We've been lucky enough to work on some really, really cool pieces. I mean, look at this, it's really coming into shape," enthused Israel Nordin, as we made our way through the space.
While Erik has an air of college lecturer about him, with his reading spectacles, smart attire and softly spoken musings, Israel bounds around with energy levels that even eclipse the two young dogs that share their studio space. The pair make for a fantastic double act, their energy nothing but infectious.
"We started off by making bespoke furniture for private clients," continued Israel. "So we might build a table or a piece of art for some individual who's just moved into a unique property – and believe me, there's plenty of those in Detroit. Then we started doing signs, you'll see a lot of our signage around the city.
"But we really started coming into our own when we got commissions for public sculptures, they might be for a city – like when we did the New Year's Eve 'Drop' for Detroit back in 2012 – or a private company, hospital or police force. When we're creating a new piece it's important that it's a collaborative effort, we'll go and speak to people who work in the hospital or office and get a sense of what they feel works and sometimes you'll be surprised in the most wonderful way."
The Detroit Design Centre is a microcosm of everything that's great about the city in which it's based. There is literally nowhere else in the world where this set-up would be able to work and thrive with such current relevance, whilst still paying respect to its heritage. The Nordin brothers have successfully managed to take the skills embedded in generations of Detroiters and apply them to the creative sector – an area in which Detroit is once again making a name for itself.
Specialising in fine art and functional objects made from glass, metal and wood, each piece comes steeped in the history of the industries which once used the cranes, power tools and production line that are now utilised for different purposes inside the Detroit Design Centre.