Detroit, one of the world's great comeback cities. Throughout this series we'll be spending time with the entrepreneurs, artists and musicians helping to restore the city to its former glory, thanks to a new wave of passion and innovation. Today we visit the Carr Center and take a peek behind their secret door...
Like many cities across the world, financial constraints have meant that funding for arts has dramatically fallen in Detroit. But as you would have expected for a city with such a proud, creative past, the residents have not taken this lying down. With the rug being pulled from under them, many in the Detroit artistic community are attempting to create a new one.
It was with this mission in mind that we ventured through Downtown to the Carr Center, a beacon for visual and performance arts. Built in 1874 by German immigrants, the beautiful yellow-brick facade still stands proud opposite Detroit's famous Music Hall and in the shadow of Ford Field – the 65,000 seater home of the Detroit Lions.
Inside Detroit: What do the city's signs tell us about its history?
The three-storey centre houses three art galleries, two visual art studios, a performing art suite and a full historic theatre. As we approached the front door artistic director and president – Oliver Ragsdale – was hotfooting it down a grand set of stairs to greet us.
Image credit: Mark Potts
"Welcome to the Carr Center. I should tell you, the first house rule is to have a great time while you're here – the second one is to come back," beamed our effervescent host.
The lean team based inside the centre, headed up Ragsdale, are dedicated to promoting and presenting African and African-American cultural arts traditions, ensuring that they continue to play a central role to life in the multicultural city. Since setting up the base in 2009 the team have not only showcased performances from world class artists, they have leveraged their stellar list of performers to help educate the next generation of Detroiters, offering classes in creative writing, dance, theatre, jazz and visual arts.
"In addition to the performances and exhibitions we put on here, education is a key part of what we do with the teachers being made up by the world class artists that live and work in Detroit.
"We are two generations removed from when arts were considered important in schools. There are a lot of difficulties working with schools and teaching the arts, in truth the budgets in this area have been decimated."
The fallout from the city's bankruptcy was particularly brutal on the arts - and not just in schools. Funding to the Detroit Institute of Arts was cut and Christie's were hired to assess the city's collection of gallery and museum stock and its potential resale value at auction.
This building is a metaphor for Detroit
As we continue the walking tour through the grand rooms and beautifully decorated corridors, our host has a brainwave. "Wait a hot minute! I know, come with me," pipes Ragsdale as we make our way up a winding set of stairs. The closer we get to the door at the top of the flight, the heavy carpet begins to turn into dusty floorboards.
"This building is a metaphor for Detroit. Downstairs is a fully functioning art centre, but go through the secret door…" At this point our host pauses for dramatic effect, clearly no stranger to performance himself. "And you can see the future," the end of the sentence coincides with a key turning in the lock and the big reveal of the swinging door.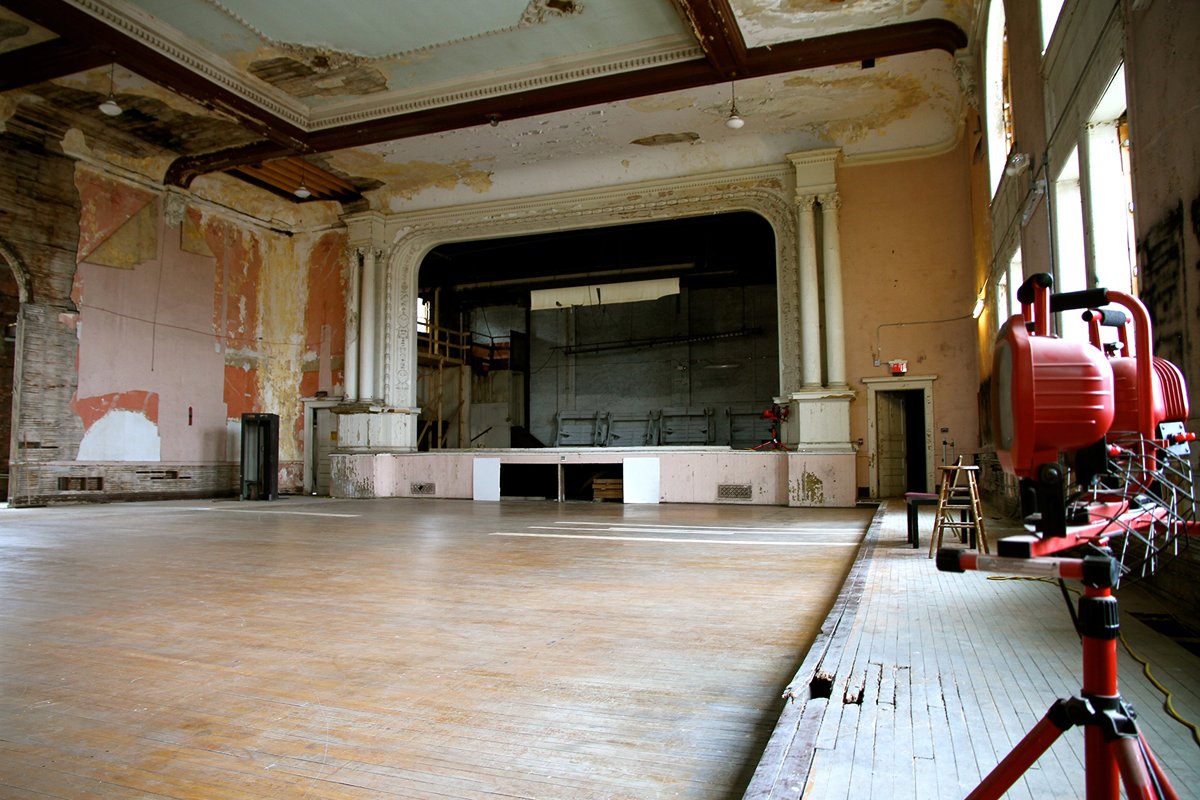 Image credit: Mark Potts
Stepping into the theatre is a breath-taking experience, its scale somewhat overwhelming on first appearances. You just wouldn't have expected to see such a vast theatre inside the modest-sized building. With the big vision being to restore it to its former glory, finding a sponsor to make it happen is one of the centre's key aims. As Ragsdale gets increasingly animated in outlining his grand plan, he points to the many successes to have come out of the Red Bull House of Art, itself another hub for Detroit creatives.
Inside Detroit: How manufacturing turned to arts
One of the common misconceptions about the city, one that's reiterated on a regular basis by those we meet, is that there's less space to get creative in than you'd think. The thousands of empty buildings should be a fertile breeding ground for artists, but Ragsdale disagrees with this assessment.
"The problem for people in this city is that there's no space for musicians to record, certainly not anything that's available to do performance arts in at a realistic price. All the empty buildings, they're not safe to work in, there's no equipment in them.
"The artists who want to do something have to leave Detroit, there's not enough of the right opportunities being given to young artists and that needs to change."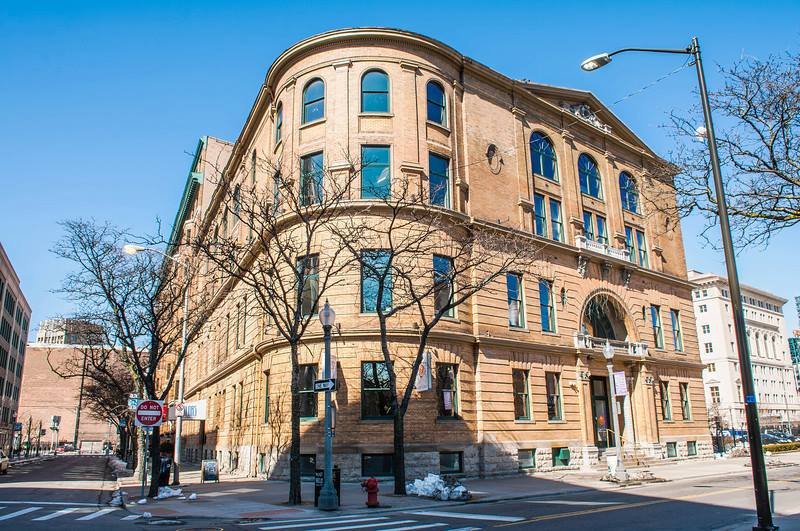 Image credit: Carr Center
While street art and sculpture may have been able to flourish in certain pockets of Detroit in the face of adversity, many other forms of art are clearly suffering as the drive for regeneration and jobs looks past these traditions.
It appears as though the only way a solution will be found is through the hard work of community intuitions such as the Carr Center, and with Oliver Ragsdale at the helm, you have a feeling that will come sooner rather than later.