Welcome to the age of the 'solopreneur', where individuals can run with their ideas alone. Thanks to the digital revolution, we can now turn to a virtual workforce and marketplace to find and sell skills. And with innovation and tech know-how, the internet is our fast-track vehicle to success...
From the tech-savvy digital marketers who've grown multi-million pound empires in their bedrooms and the YouTube sensations who are pulling in six-figure sums, to the freelancers selling their skills via sites like Elance. Thanks to the internet, the number of solopreneurs has boomed.
Recent figures from UnLtd - a social entrepreneurship foundation - reveal that 55 per cent of young people want to launch their own firm. With minimal start-up costs, flexible working and the potential to achieve huge financial success, it's easy to see why solopreneurs are causing such global disruption in business, with the help of the internet.
Carl Churchill is one of those disruptors. He launched a web design company aged just 12. Four years later, he sold it for a sum of £4.7m and has been dubbed 'the next Bill Gates'. Many people have heard of Pete Cashmore. Or if they haven't, they'll know his social news website Mashable. The techpreneur launched the blog from his bedroom in Aberdeen, aged 19 and today he's worth an estimated £200m.
Image from Mark Pearson
Mark Pearson [left], 34, doesn't quite fit into the typical Generation Y category of people who plunge straight into the online world. He tried traditional entrepreneurialism when he opened a chain of gastro pubs across London. But he walked away to launch his virtual business when he realised it wasn't 'scalable'.
"I knew I wanted to do something with the internet but didn't know how," explains Pearson.
Many young entrepreneurs think you have to wait for that lightbulb moment but in truth, there's never a 'best' time to launch your own company.
"I locked myself in my apartment in Clapham and self-taught using UK business forums and crowd-sourced information websites, such as Shell Live Wire and Quora."
With his new-found skills, Pearson launched an online florist, followed by a virtual coupon business, My Voucher Codes. "I liked [coupons and affiliate marketing] as a business model," he explains, "and the online coupon boom hadn't happened yet in the UK so the concept was a no brainer."
After selling his coupon site to the performance marketing network, Monetise, last year for a sum of up to £55m, Pearson went began investing in young entrepreneurs' internet start-ups.
"Many aspiring young entrepreneurs think you have to wait for that lightbulb moment but in truth, there's never a 'best' time to try launching your own [internet] company. I was a solopreneur and did everything, so I made many mistakes but I also learned so quickly. It's best to take the risk and go it alone."
For other entrepreneurs like Paola Dyboski-Bryant, the internet has helped scale an existing start-up. In 2011, the mum-of-three launched Dr Zig's Extraordinary Giant Bubbles – a range of eco-friendly bubble products - which has become a huge success thanks to the cyber world.
"I live in rural Wales so I don't have big corporate companies on my doorstep," Dyboski-Bryant says.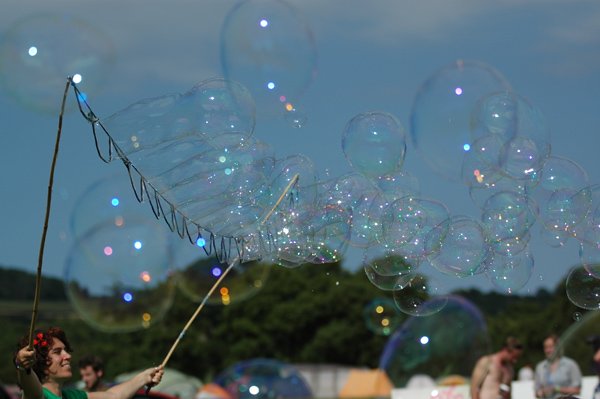 Image from Paola Dyboski Bryant
"I started selling bubble mix from the boot of my car and they were so popular, I began selling them on eBay."
A Facebook page and website later, Dyboski-Bryant now has a retail outlet plus a permanent team of staff. She's also raised her entrepreneur profile with the help of the Virgin Media Pioneers site. Her YouTube channel receives around 100,000 views alone. "Without online tools, there's no way I'd have had such success," she says.
Solopreneurs like these all contribute to the internet economy which is set to be worth £221bn by 2016, according to Oren Greenberg, MD of digital marketing company, Kurve.
"At Kurve we keep coming across this insatiable hunger for the benefits of digital - be it peer to peer sites such as Airbnb, to a shop front that requires no man power," notes Greenberg. "The digital revolution isn't a fad. I expect it to accelerate and create technological change at a rate faster than projected across many developing countries."
This is a guest blog and may not represent the views of Virgin.com. Please see virgin.com/terms for more details. Thumbnail from gettyimages.