CEO Jason Felts looks ahead at what 2015 has in store for Virgin Produced, with the company taking inspiration from Virgin's 1970s roots…
You are reading an article from The class of 2015, to read more about this you can visit the series homepage.
Content consumption behaviors have dramatically changed across entertainment. Traditional, new and emerging distribution platforms have evolved and continue to shift. Netflix, Amazon and other emerging SVOD technologies have made significant impact and have succeeded in altering the way that consumers watch, listen, read, and interact. On the year of Virgin Produced's fifth birthday, I'm proud of how our company is growing and a destination where actors, writers, directors and composers feel at home. The company I co-founded in 2010 is exactly where I envisioned and poised for an incredible growth movement and expansion.
A film buff or even the casual movie goer may not realize this, but old media studios and production companies continue to plod along as though it is perpetually 1980. Artist comes in or is hired, oftentimes hat in hand, and has to fight with studio executives for every last scrap of artistic integrity. The movie comes out and the artist has to send in their forensic accountants to audit the studios for the earnings they are entitled to. Well, it's 2015 and Virgin Produced is changing this.
Digital content, social media, and branded entertainment still gets labelled under 'new media' and is lumped together as an afterthought. Mediocre content gets the greenlight because bean-counters can pencil out a profit, regardless of quality. Well, it's 2015 and new media is not an afterthought at Virgin Produced and we surely aren't going to deliver mediocrity.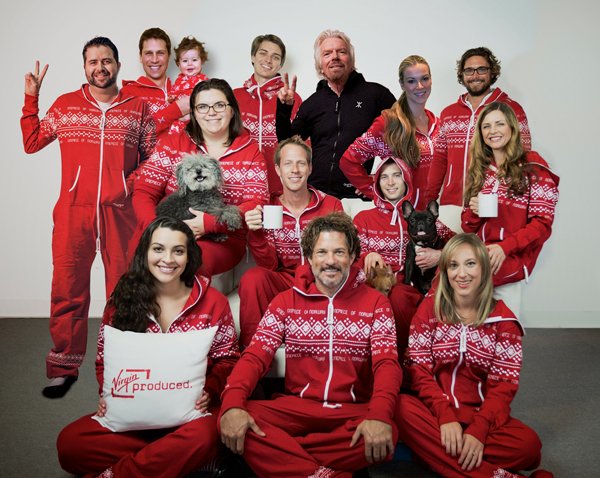 All of this and these corporate giants wonder why their audience is looking elsewhere for content? Why are Disney and Marvel really the only 'brands' left with a consistent brand and release strategy? Are great brands like Miramax (where the consumer knew what to expect when they saw the logo before the trailer) dead?
Looking across the industry, I'm constantly struck by how many media companies haven't adapted to the writing on the wall: the old ways just won't work for the audience anymore. Content goes beyond movie and TV screens now, from tablets and phones to computer screens and even the backs of airline seats.
Consumers are taking stock of traditional entertainment and information options and finding them wanting.
We're getting back to Virgin's roots as a company that cares about making great content... In my opinion, Virgin Records began this trend back in 1972.
At Virgin Produced, we're trying something new in the industry - but not new for us. We're getting back to Virgin's roots as a company that cares about making great content and providing a collaborative home for artists so they may create their best work. In my opinion, Virgin Records began this trend back in 1972, putting great music into the hands of consumers and working with cutting-edge artists.
We're proud to be a next-generation content company in the family of innovators that is Virgin. Working alongside talented writers and directors, we help develop our collective visions and nurture the ideas that can go on to become break out productions. As fitting Virgin's storied history, we care about making great content for our audience across every possible outlet. We strive to tell interesting and engaging stories to consumers in whatever format and through whatever medium we can.

Our audience seems to like what we're doing: since inception in 2010, the films we have co-produced, starting with LIMITLESS, have totalled over $724 million in combined ticket sales. Our creative work on behalf of the Virgin family of companies is innovating genres as is exemplified by the Virgin America Safety Video we concepted entirely in house and produced garnering over 727 million media impressions, and delivering Virgin America an ad equivalency value of $19 million.
Winning several awards including a CLIO and Shorty Award, we are just as proud of this four minute video as we are any of our two hour films. Okay, Okay, so you care about making great content - how else are you changing the way content is made or released? We focus heavily on marketing from day one. My team often would laugh at my but I would pitch a design concept for the movie poster before we ever go into production. Maybe even change the title several times until something just felt commercial - or felt Virgin.
This is all with a view to building a marketing campaign early to start seeding an audience in advance and while working with other Virgin sister companies we have been highly successful in reaching Virgin brand fans in ways that are truly mutually beneficial to the companies and the film (or safety video). We have a huge focus on social media and talk to our audiences constantly, not just when we are trying to 'hock' something. We talk and engage. We don't sell to them. Amongst media companies, Virgin Produced. has one of the most prominent Twitter profiles, with over 331,000 followers just behind majors Disney, Marvel, Warner Bros and Fox.
2015 is bringing about a few changes and planned growth. We have 15 films currently in development, five television programs setup at networks, and will be steadily rolling out branded content with partners throughout 2015. Our social media presence will similarly grow, incorporating contests, promotions, tie-ins, and cross-marketing across the entire Virgin family to reach as many members of our audience as we can.
A large part of our growing success has meant looking beyond Hollywood for inspiration and delivery to create a brand that is global in reach. In late 2013, we opened our sister operation, Virgin Produced India, a joint venture to bring new and commercial Hindi language content throughout India. So to us at Virgin Produced we really see the brand as coming is coming full circle from its entertainment roots. And we can't wait to get 2015 started and entertain you.
See you at the theatre, or in your living room, or on your mobile or on the seatback or maybe even inside a Virgin Hotel room. Wherever you consume your content, have a look out for Virgin Produced.
This is a guest blog and may not represent the views of Virgin.com. Please see virgin.com/terms for more details.