Last year I dropped out of sixth form, halfway through my A Levels, to pursue an idea. It took almost nine months to convince my parents that it was the right choice for me.

Having just launched our crowdfunding project on Kickstarter, I look at the advantages and disadvantages of dropping out of school, college or university early.
Let's rewind to where it all started: I've been working out of coffee chains solidly for the past three years - I started going there to work, relax and talk. One day in December 2013, I realised that I was only going because my friends were; the stores are often loud, messy and slow. I wasn't even attracted to the taste of the coffee. What was once a great place to meet and share ideas has now frequently turned into a mess, with long queues, dirty tables, slow WiFi, rude staff, unethically-sourced products and dated music.
Space Lounges is the next-generation coffee lounge, controlled via an app on your smartphone. The app acts as concierge, with intelligent data-driven recommendations, an interactive menu that automatically re-shuffles itself, seamless one-touch payment where a receipt is automatically emailed to you and the ability to leave feedback which is read daily by the store manager.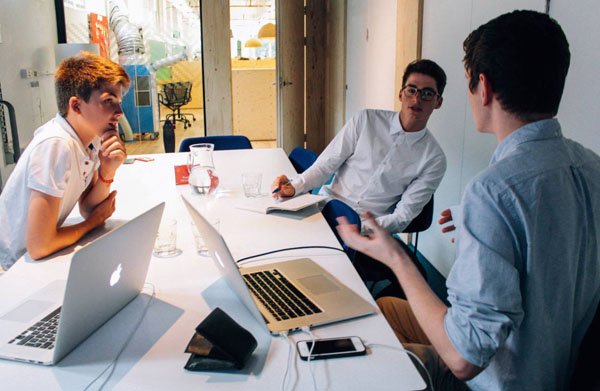 I started working on Space Lounges whilst still at school, with my 15-year-old co-founder George Streten, but found I was struggling to manage my time given that I was also having to revise for some of the biggest exams of my life. I made the decision to drop out and move to London; from there it was much easier to make connections at key tech/business events, have face-to-face meetings and go to sleep nearly every evening feeling inspired. I agreed to join Microsoft Ventures for three months, where I would learn the basics of finance, legal, branding and other useful things along the way.
Here are the top five things I've learnt through dropping out of school to pursue my idea:
1. Feeling vulnerable, with only a clutch of qualifications, isn't necessarily a negative; it allows you to focus properly on where you want to get to and what you actually stand for. In my opinion, if you just live your life floating along, being guided by a system that effectively awards people for having a good memory - you're not living.
I have a tonne of respect for those who are going out there, doing and creating those memories. For some people, depending on what it is you want to do, you don't need permission (qualifications) to go out there and start doing. Feeling vulnerable allows you to step out of the safety net and build strength in your character.
Ideas don't matter nearly as much as execution.
2. Going out into the world and doing something fun and exciting that also has a positive impact on people's daily lives must be the best feeling! One day you're (hopefully) going to reach the age of 80, when you'll stop for a moment and look back on your life. I don't want to be in that position and have a list of regrets and things I should have done that I didn't.
3. Education is not limited to the confinements of a classroom. The amount I have learnt over the past six months has been crazy. I have had the opportunity to speak to some of the greatest leaders and artists - Jack Dorsey, Peter Thiel and Tony Hsieh (right). I've travelled around the world and seen things with my own eyes that I wouldn't have inside school.
I've been in board meetings with c-level executives, lawyers, accountants and partners. Whilst school is great for teaching the theory, often you miss out on many real-life experiences.
4. Ideas don't matter nearly as much as execution. Anybody can experience a frustration and think of an idea. It's another thing actually building a solution to that problem. You need to be ready to 'get your hands dirty' in the real world.
5. Be strong enough to take and listen to criticism in whatever you do, but always listen to your gut instinct. When you are unsure how to approach something, your heart will guide you. It's a very strange feeling, one day going to school and the next leaving your friends behind and venturing down a completely different path; it can be very scary if you don't have support from those closest to you. Make new friends, find a mentor, meet a business partner and have faith in your dreams.
I think dropping out was one of the best decisions I have made. However, I understand that everybody has different ambitions for who they want to be and where they want to go - if education will help you get to that place, I say take the opportunity with both hands and go for it!
"So we shall let the reader answer this question for himself: who is the happier man, he who has braved the storm of life and lived or he who has stayed securely on shore and merely existed?" Hunter S. Thompson
This is a guest blog and may not represent the views of Virgin.com. Please see virgin.com/terms for more details. Thumbnail from gettyimages.