This week Jimmy's Iced Coffee have provided us with a perfect example of how to reach out to new customers through a clever piece of marketing, but how does it compare to the efforts of other great entrepreneurs?
Paying for and ad spot, splashing out on a celebrity endorsement, sponsoring a sports team – while these are all tried and tested ways of getting your brand name out there, many entrepreneurs choose to find their own unique way of putting their company in the public eye.
Financial constraints often put the more traditional forms of PR out of reach of many fledgling entrepreneurs, plus when you get inventive it can be a lot more fun.
Here are five entrepreneurs who conquered unchartered territory in the name of their business.
1. Release a rap song - Jimmy Cregan (Jimmy's Iced Coffee)
Last night Jimmy dropped his surprisingly catchy debut single Keep Your Chin Up, complete with its own beautifully shot video. Released on the amusingly titled Death Roast Records, the song is looking to play strongly on social media and expose the brand to a whole host of potential new customers. Given Jimmy's love of old school hip-hop and his impeccable timing we can see this one climbing the charts.
2. Take a viral selfie - Lee Thompson (The Flash Pack)
While a catchy song can get stuck in your head for days, nothing can go viral quicker than a perfectly executed picture. "Last year our 'selfie with Jesus' went viral," explains Lee's co-founder Radha Vyas. "We climbed on top of Christ the Redeemer and took the picture - we were suddenly inundated with enquiries from customers."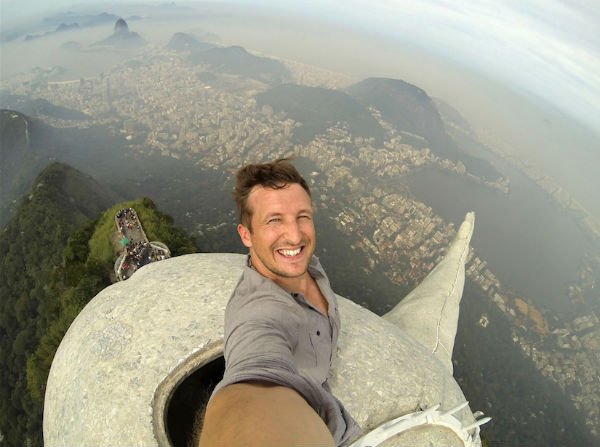 Image from The Flash Pack
3. Take a stand - Jamie Green (One Night Stand Sleepwear)
Jamie Green's company is focused on not only providing people with high quality sleepwear, but also supporting young people sleeping rough. To help get this message across last year Jamie stood up, in a box, for 24 hours straight in the Melbourne streets.
The David Blaine-esque act resulted in international press attention for the brand on the eve of the launch of its first full range.
4. Make a f***ing great video – Michael Dublin (Dollar Shave Club)
You've got a simple product and a simple service that you think the market will love – but how do you let everyone know? This 2012 effort from Dollar Shave Club has proven to be the gold standard of viral video marketing, picking up 20 million views to date. Be funny, be timely and if you feel like it, swear.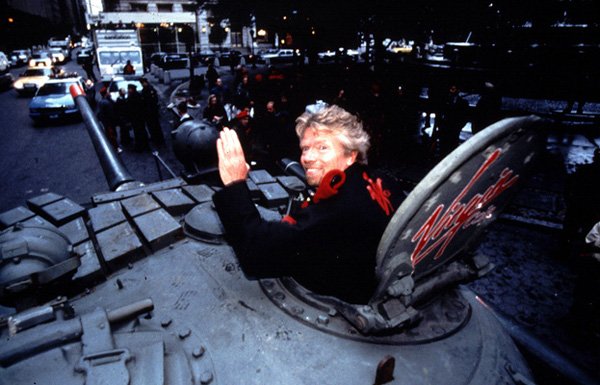 Image from Virgin.com
5. Drive a tank through Times Square – Richard Branson (Virgin Cola)
If your name is Richard Branson and you drive a tank through the middle of New York you can pretty much be guaranteed that it's going to result in some widespread press coverage.
However you better have the product to back up all the attention, not even this outlandish turn could make Virgin Cola a success.
Have you got a favourite example of an entrepreneur thinking outside of the box to promote their brand? Let us know below...