Chicago, the new home of US entrepreneurship? During this series we'll be assessing the credentials of the Windy City as a global destination for start-ups. This week, we meet an artist looking to balance business with creativity...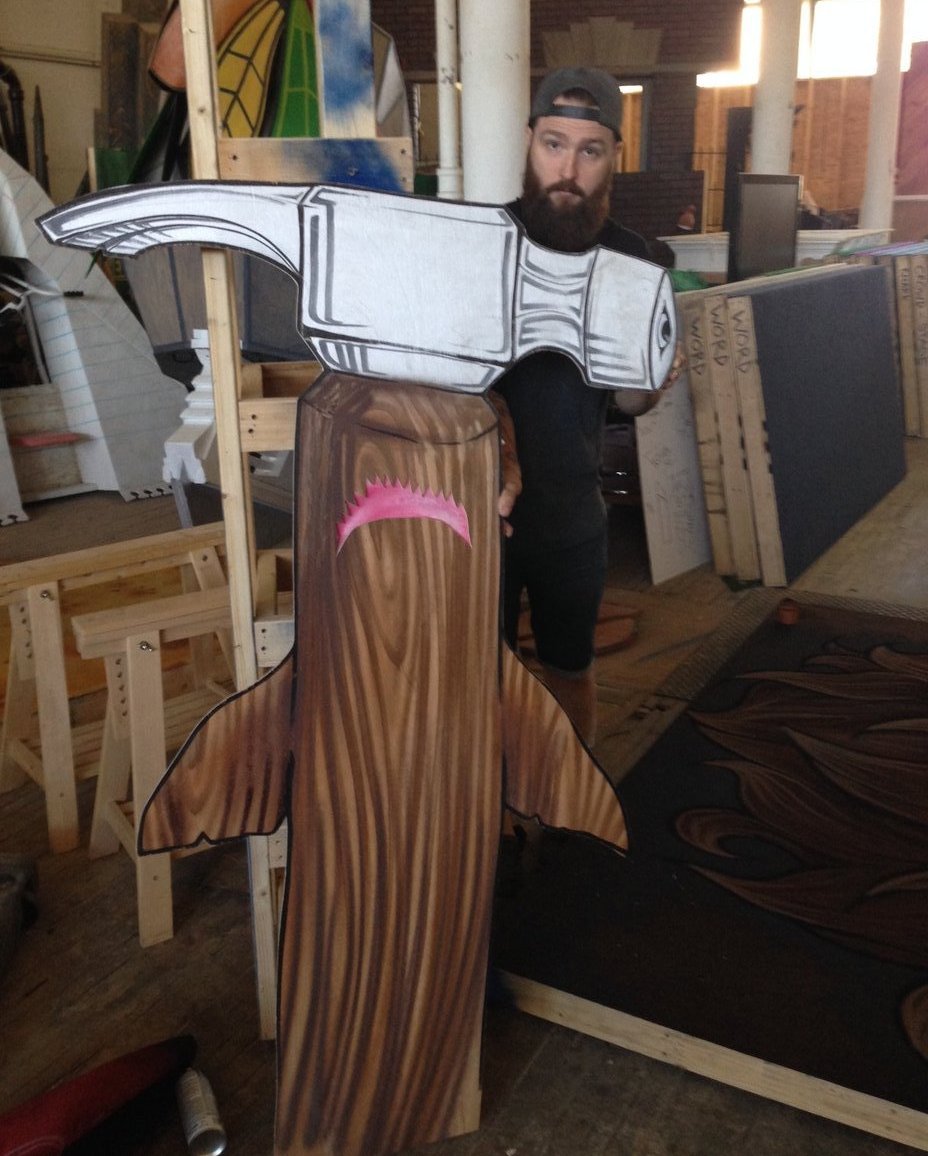 Image credit: Jack Preston
"Oh man, I'm coming across as really bitter, aren't I?" Floyd A. Davis IV attempts to stop his flow mid rant, but fails to keep himself in check. It's a sunny Wednesday morning in Chicago and we're sitting in Davis' Pilsen art studio talking over the pitfalls of being an active art entrepreneur. As it turns out, there are many.
"The stuff that I make that does really well just gets stolen quicker, and then the worst bit is that someone then comes along and tells you that you didn't do it first. When you do something genuine there's a whole load of parasites who are quick to turn up," vents Davis.
"It's like, if you're going to build a business based on something that I came up with then at least give me some credit for the idea. After someone else has taken the idea from you then it's hard to carry on with it, it's like looking at someone who's cheated on you, I can't bear it."
I didn't have to ask for an example to back-up his point, I had seen a big stack of them as I walked in the door of the studio, piled up like adulterous artworks. The Gentleman's Boombox has been one of Davis' most successful products to date – beautifully crafted boombox's made out of vintage suitcases that he and his mother collected from thrift stores up state. Unsurprisingly, the idea really took off and, rather predictably, many others followed suit in order to make some quick profit.
Looking on the bright side of things, which appears to be something that the enthusiastic Davis is rather adept at, he's never short of a new idea. His business (or as he wryly describes it "the government recognised version of myself"), Artpentry, houses many varied passions.
Image credit: Jack Preston
With Davis keeping himself busy with construction, set and prop design, painting, printmaking, sculpture, digital design, music production, rapping and traditional fine art. "Yeah, I do a lot, people get pretty confused."
Sitting on a sofa in the corner of the studio we look out over a vast array of larger than life pizza slices, tacos and animals constructed from wood, covering the floor, half painted. It's a week away from the Riot Fest music festival and Davis has been commissioned to construct his own miniature golf course for the festival goers.
Chicago entrepreneurs: Start-ups in the Windy City
A great amount of work has clearly gone into the pieces, there's no doubt that Davis really earns his commissions. "It's hard work, for sure. It always has been. I grew up on a farm and from an early age my Dad taught me to use tools. Carrying those skills into my career has enabled me to be self-sufficient, that's what it's all about for me."
Image credit: Jack Preston
Self-sufficient is a state many artists are forced to find themselves in. Our recent series on Detroit unearthed a strong collective of artists who felt as though their city offered them little to nothing in way of a support network, especially when compared with creative strongholds such as London and New York. Does Davis believe the same to be true of Chicago?
"Well, the city doesn't really help me out, but then again it's not like I'm asking for anything. I get on with my thing and that's fine. I actually think it's a good place to be based. There's enough going on to keep you interested and for opporunties to crop up, while the space available is affordable. But there's no getting away from the fact that doing this as a business is really hard, it's more difficult than I could have imagined.
"I'm probably saying this as I'm sat here talking to someone who works for Virgin, but the other day I read this entry on Richard Branson's blog that summed up the whole situation for me. It said: "What is an entrepreneur? Someone who jumps off a cliff and builds a plane on the way down." That encapsulates the struggle that I go through trying to make this all work. As an art business you have to deal with so many more problems than you would have to if you were, say, a tech business, or at the very least it's the same problems but to an extreme. Late payments, no payments, people going back on deals – we get it all."
Image credit: Jack Preston
While Chicago's thriving community of tech entrepreneurs have an impressive ecosystem of incubators, co-working spaces, pitching events, mentorship programmes and clearly defined funding routes to help grease the wheels, it appears at first glance as though none of these luxuries have been afforded to the entrepreneurs operating in the creative sector.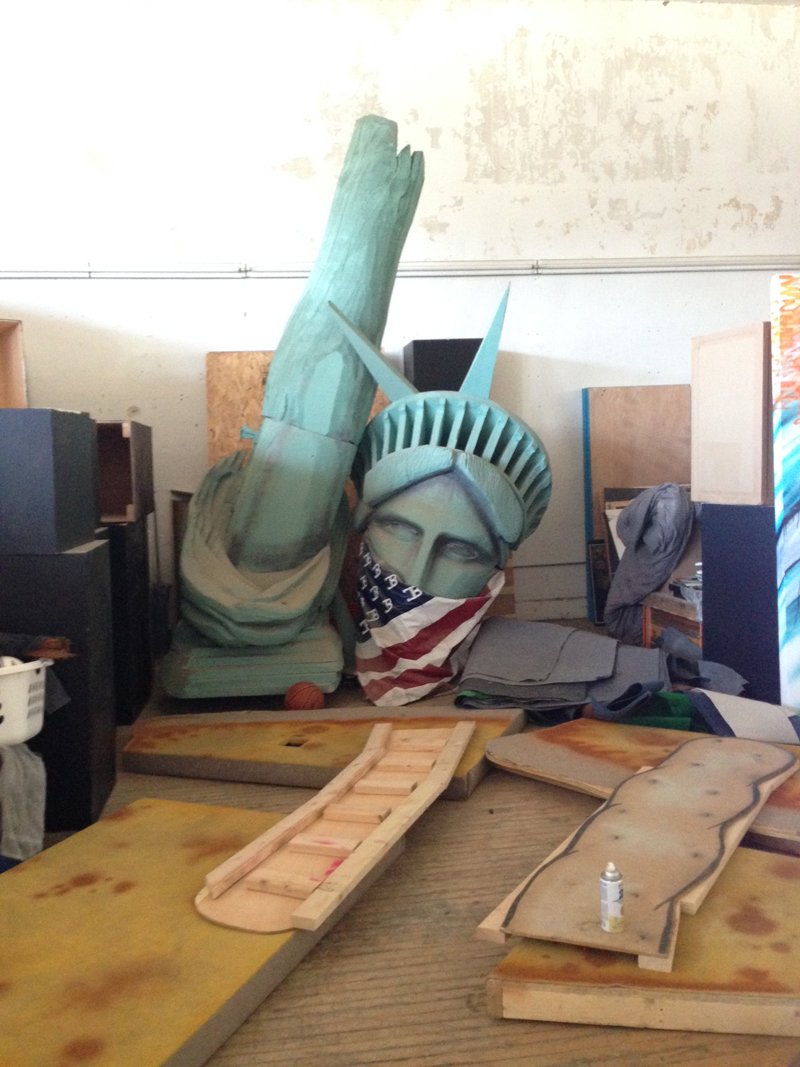 Image credit: Jack Preston
But after some time spent exploring the neighbourhood where Artpentry is based, you come to find that there's more to it than meets the eye. With so many spacious studios and galleries, such as Artpentry, it's clear that some sort of curation has taken place. "It has indeed," explains Davis. "I'm actually pretty lucky, the landlord carefully picks who he rents the spaces out to around here and keeps it affordable. Pilsen has been an art district for over 40 years, there are over 30 galleries in walking distance. " So while there may not be investors or hungry college graduates fuelling the work of Chicago artists, there is still some form of a community which can be tapped into.
And as for the future, Davis seems to be taking inspiration the Cub's fine form as of late. "I need to stop going for home runs and running for the bases. I thought The Gentleman's Boombox was going to be my break, but it didn't happen. But there's definite evidence of progress taking place here and that's what keeps me going."