This year Pinterest surpassed 70 million users. It's one of the fastest growing social networks and can be instrumental in driving online sales. There are 500,000 active business accounts and this number is set to rocket now Pinterest have released their new 'Promoted Pins' feature.
If you're looking to grow your business through Pinterest the first thing you need to do is create a profile page. This how-to guide will walk you through the steps and explain how to make the most of this great social media channel.
How it works - Every day, millions of people use Pinterest to explore their interests, find products and connect with people who share common interests. In short, users pin images they like and organise collections into boards. Users then follow more pinners and use feeds to find more enjoyable content.
It's perfect for business. As humans we are visual animals. This makes Pinterest the perfect platform when it comes to sharing or promoting all kinds of visual products. The network has more active users than Reddit and contributes to a higher average order value on eCommerce sites than any other social network (Facebook and Twitter included).
Want to see Richard Branson in a live Google+ Hangout with Pinterest CEO Ben Silbermann? You can do so here at 17:00 GMT
Getting started - Firstly, to get started you will obviously need a business Pinterest account. Simply visit https://www.pinterest.com/business/create/ and fill out the necessary details. If you want to advertise on Pinterest it will be tied to this account so having a separate profile makes this easier to manage and control if an employee leaves. Use your brand name as your username. This will help your business page rank for brand-name searches on Google. With Profile images you have the option to upload an image. This should be your most up-to-date company logo in a square format – this same image (or a cropped square version) will also appear next to your updates.
Finally the About section. You have 200 characters to summarise your company. This should convey your page's proposition and unique selling point. I would also suggest including your main keywords and location where they flow nicely in the text to help the page appear in relevant Pinterest search results.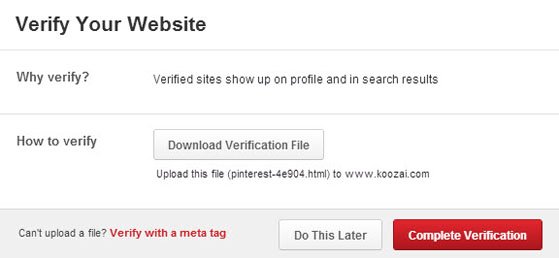 Verify your account
Once you have created your account and accepted the confirmation email you will need to verify your profile. There are two ways to verify an account:
1. HTML file upload
2. HTML meta tags
It's easier and quicker to upload the HTML file so I would always suggest this method. Simply go to the pencil symbol on your profile description and this will take you to a screen where you can verify you have control over the domain you have listed. Hit 'Verify Website' and 'Download Verification File'.
Upload the HTML verification file to the root folder of your domain and then click 'Complete Verification'. This will verify the profile and include a tick next to your name.
Add the Pin It button
Adding the Pin It button will invite people to pin images straight from your website. Simply select the Pin It Button from the wide selection of widgets available. This is a great tool to encourage users to promote your individual products. For example a flip flop website may have this button on every product image to encourage users to pin their images to boards.
Add the Follow button
By adding the Follow button to your website you can invite people to follow your business profile. This will help build up a credible list of users that you can re-market to.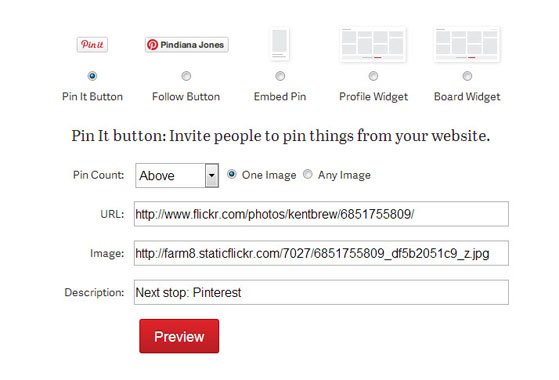 Link to other social profiles
If you are on Pinterest you're probably on Twitter and Facebook too. There is an opportunity to link your accounts together which is certainly worth doing. To do this, go to the settings page and scroll down to social media. This gives you the opportunity to connect with Facebook, Twitter and Google +
Linking the accounts will help promote your pins to additional followers on those platforms.
Create a board
When it comes to sharing pictures organisation is the key. Hundreds of different pictures can quickly become overwhelming for a user so it's important you organise your pictures into boards. A board is a selection of pictures centred around a particular theme. For example an online sports shop might have a board for tennis shoes, running shoes, motivational images and many others.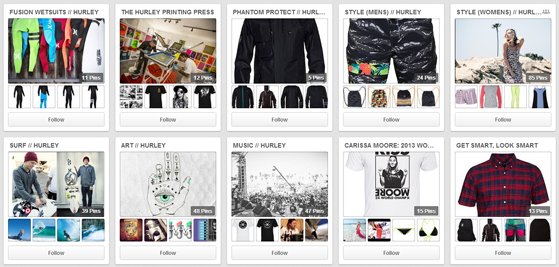 Board optimisation
To make a board stand out visually you need to have an engaging cover photo. This is the first thing a visitor sees when they land on your profile so it's important the boards stand out. Take a look at the screenshot below taken from the Hurley Pinterest account. All the images are very enticing and display exactly what the individual board is about.
To make the board search engine friendly you need to create an accurate description of it. You have 160 characters to play with so choose your words carefully. Make sure you help users understand what the board is about. A good description will help you show up for internal searches too.
Check back tomorrow for the second installment of this how to guide...