Remember those ads from the 1980s where the millionaire businessman, Victor Kiam, declared about the Remington shaver, "I liked it so much, I bought the company"? This is a story about a guy who wanted something so much he started a company…

In the late 1990s, with the rise of mass-produced clothes and designer brands, Savile Row, the home of bespoke British tailoring, was struggling. There was a marketing campaign to try and revive things and a dapper young chap by the name of Guy Hills was hired to be the photographer. Hills loved clothes, particularly suits, and his experience photographing the archives would open his eyes.
"There was such depth of knowledge among the tailors and so many textures and colours amongst all the cloths. You associate Saville Row with charcoal pin-striped suits, but that's just one tiny aspect of it all. You don't realize because old photographs are all in black and white, but there were some wild, wild colours and cloths, particularly in the country. All these men used to have a fantastic time dressing up in splendid clothes. People don't enjoy dressing in the same way now."
Big brands have taken away the variety.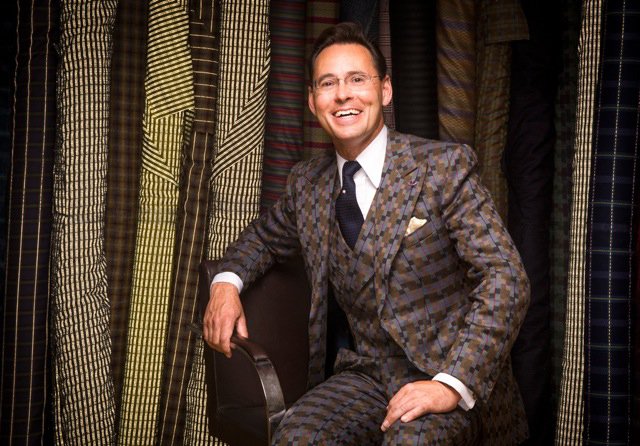 Image credit: Charles Gervais
Bringing modern tweed and colour to the city
Hills got an idea in his head. And it wouldn't go away. He wanted to bring that colour back and take it to the city – he wanted modern, urban tweed.
One of the tailors offered to make him a suit, but Hills couldn't find the right cloth.
"I happened to be at a show at the Royal College of Art. A graduate there, Kirsty McDougall, had this amazing fridge with all these fabrics flowing out, we got talking and I found out she was a weaver. So I said, 'Can you weave me some fabric?' and she said, 'Sure'. And we wove this dazzling piece of cloth. Kirsty, quite literally, wove my dreams."
"I went back and said we've got to weave some more and she said I can't I've left college. So I said we should set up a design studio, get a loom – I was so obsessed with this idea of modern urban tweed – and she said, 'it's 12 grand!' I was making quite a bit of money at the time as a photographer and I had to have this cloth, so I bought the loom and we set it up in the front room of the flat she was sharing."
Hills figured he could get more suits made and fund it all by selling on the leftover cloth.
A large element of being an entrepreneur is just having a blind passion. That's the beginning.
He then started photographing urban colours – red post boxes, bits of tarmac, yellow lines – and sending them to a dye house. The yarns that came back were the real colours of London. He and McDougall then started creating warps together with McDougall developing the weave designs.
One example he showed me was a tweed interwoven with high-visibility reflective fabric. The suit glows in the dark. "I didn't think it through," he says. "I just wanted a modern urban tweed suit. Suddenly I found I was a cloth merchant".
The moment of clarity
Hills was getting a lot of work photographing for big brands like Cartier and Aston Martin – having a great time jetting off to exotic places.
"I had this sudden realization that I wasn't photographing beautiful women, I was selling bikinis. I was building somebody else's brand.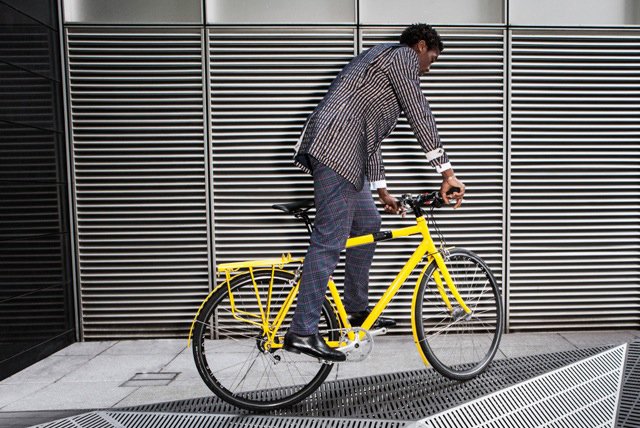 Image from Dashing Tweeds
"I wasn't looking beyond the end of my lens, I was only thinking – like many photographers - about the next job. But if you're not around, they'll give the job to someone else. I realized I was completely disposable."
So he conceived a brand around his urban tweeds – Dashing Tweeds – and he bartered his photography to create it. Tailors made suits in exchange for photography work from Hills. Then, magazines exchanged ad space for the same. The ad space was used to picture Dashing Tweeds newly cut suits.
It worked.
Converse in America asked to see some samples. They liked what they were given and flew over to meet the team. Hills picked them up in his beaten-up car and drove the execs to the Dashing Tweeds HQ – McDougall's front room in Dalston. Before long, Converse would have a line in tweed sneakers.
Image from Dashing Tweeds
More collaborations would follow – with Pharrell Williams' Billionaire Boys Club, Boxfresh, Hudson and Brooks cycle gear. Dashing Tweeds has now opened up its first store – just off Savile Row, of course.
"Hundreds of years of individuality has been bashed out of people in the last 30 years by big brands," says Hills. "People dress like drones, buying things because of advertising, without thinking deeply about what they're wearing and why. But something is changing at the moment, attitudes are changing. We're part of that, I hope."
Why passion is everything
"I wouldn't say I'm disrupting anything," says Hills. "But I think I'm market leader. Savile Row and bigger brands are already copying us. And that's fine we're all part of the collective, the evolution of clothes. What really sets us apart if that we are developing all our own fabrics in these unique urban colours.
"A large element of being an entrepreneur is just having a blind passion. That's the beginning. If you actually think sensibly about everything you have to do, the costs, the risks, the amount of work, you're never going to have the impetus to start. You'll just think it's bonkers.
"Look at a Zaha Hadid building. You might get the shape of that building in your head and it all seems obvious and easy. But if you go inside and you realize all the engineering that's required, the architects' plans, the wiring, the plumbing, the raw materials and you start running numbers and doing spreadsheets, you'd be put off before you begin. You need passion for a brand otherwise it's never going to happen."
Perhaps passion is the most important ingredient.
Dominic Frisby is the author of Life After The State and Bitcoin: the Future of Money.
This is a guest blog and may not represent the views of Virgin.com. Please see virgin.com/terms for more details.