In today's guest blog young entrepreneur Ross Kemp explains how a chance meeting with Richard Branson changed his fortunes…
Arriving at Heathrow with the two Asap Rescue Watercrafts mummified in layers of bubble wrap and balancing on a trolley, I checked in at the Virgin Atlantic desk. Within a couple of minutes I was telling the check-in lady my story – this incredible once in a lifetime trip from Richard Branson to head out to Australia, in order to test my rescue craft with some of the best lifeguards in the world!
A little confused, she asked how this meeting with Richard came about, so I explained the BBC show - Be Your Own Boss - which I was selected for and how to my total surprise I had the chance to sit down with him and talk through my product and business.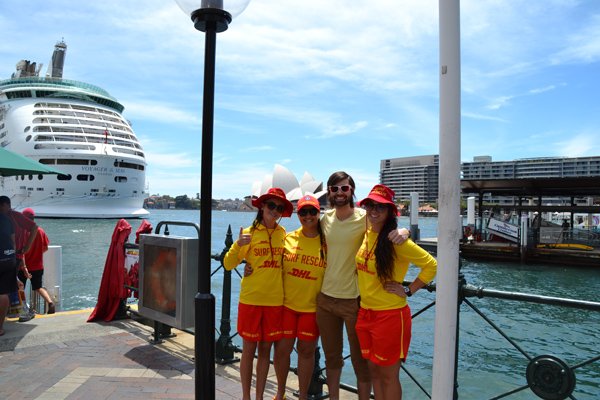 The hours flew by on the flight and the Virgin staff did a cracking job of making sure I was comfortable. The weeks leading up to leaving were insanely busy – so I had no trouble catching up on some much needed sleep. Touching down in Sydney I went for a walk down to harbour and to my amazement stumbled across a Lifesavers exhibition! Straight to work it was, making my first contacts.
The following day I had an important meeting with a distributor, who is really interested in selling the Asap Rescue and Leisure Water Crafts in Australia. I also managed to book a meeting at the Surf Life Saving (SLS) headquarters in Sydney, where I presented the product to the team there. With lots of questions and great contacts made I was feeling very excited.
Then it was time to hit the road, in order to meet as many lifesavers as possible and get their feedback on the product, after all I need to know if the product is a floater or a sinker in the Australian market. With my rented camper van stocked with the prototypes I aimed to visit as many rescue stations as possible along the East Coast of Australia, meeting lifeguards, lifesavers and buyers face to face surely has to be the best way to get a feel for the market.
The sense of freedom was brilliant as I hit the highway, music on and the rescue crafts loaded in the back. My first stop in Melbourne was with Gareth from Victoria Maritime Safety, who wanted to see the craft in action to decide how to classify the vehicle, as well as if I will be allowed to use it in the state of Victoria.
Heading into the sea I certainly felt under equipped in my board shorts when Gareth changed into a wetsuit and lifejacket complete with GPS tracking and a flare! However with the green light from Gareth it was time to head to the district of Hampton to their lifesaving club.
As I arrived on Hampton Beach the Nippers Club were out training – lots of kids close to shore, the perfect scenario for an Asap Rescue Craft! The manager loved the product and a small crowd soon gathered round to have a closer look.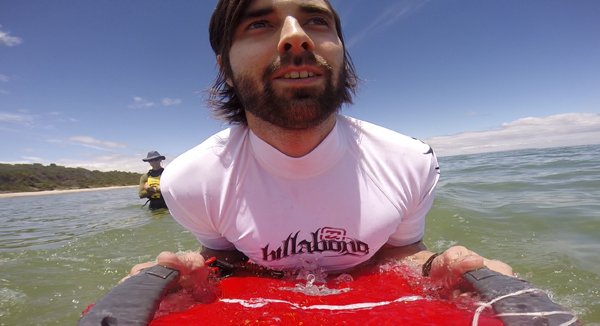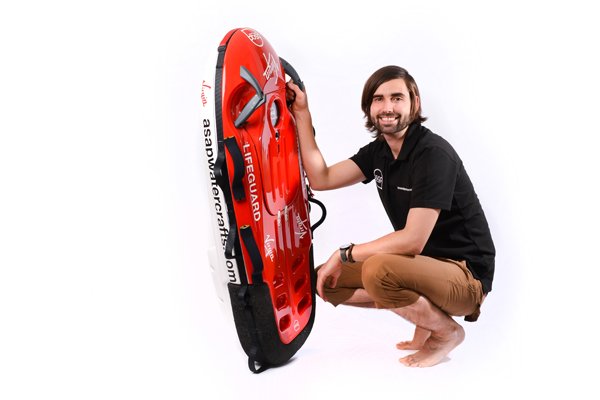 However I knew I had some serious work to do after some electronics issues during speed testing with Safety Gareth. Would all bets be off for the next four weeks?! I needed to get the product fixed and fast! After a long night of taking things apart and testing in the camper by torchlight I needed help, so I headed for a 24 hour McDonalds for some free WiFi. I began desperately searching for electronics help in Melbourne and as a shot in the dark I dropped Monique an email.
Monique emailed me a few months back after reading about my product online. A University Design lecturer in Melbourne, I said it would be great to catch up over a coffee (and I don't suppose she knows anyone handy with electronics?).
The kindness shown to give up their Sunday to a stranger from the other side of the world was staggering… such incredible generosity was a reminder of the importance of contacts and networking.
My phone rang half an hour later, Monique put me onto her husband - who happened to be good friends with an Electrical Engineer! First thing the next morning we all met at their house and headed up to their loft, an incredible space full of remote controlled airplanes. I soon realised Monique's husband's model plane hobby combined with his friend's electrical engineering were the perfect team to perform electrical surgery on my product (Monique's husband is a Veterinary surgeon by day).
By lunch we had resolved the problems and were planning how to prevent future problems and production electronics, all over a tuna sandwich. The kindness of Monique's family and friends to give up their Sunday to a stranger from the other side of the world was staggering – such incredible generosity, and a reminder of the importance of contacts and networking!
It was time to leave the home comforts of Monique's family and head back on the road with lots more lifesavers to meet. With a big meeting lined up with the lifeguards from Bondi Rescue back in Sydney at the end of the week I had better get my pitch well practised here in Melbourne before heading back north!