Let's be clear – throughout history, the great, unwashed public have always been at the heart of delivering society's biggest advancements, breakthroughs, movements and technologies. The crowd argument is not some ideological bent, it rests as simple fact.
Tremendous amounts of crowd labour made the pyramids possible and the shift from agrarian society. Collective intelligence was formally harnessed throughout the 17th and 18th centuries by European royals and parliaments in pursuit of better sea navigation. Forty pilots failed (and many died) in an open, sponsored crowd challenge before Charles Lindbergh and the Spirit of St. Louis mastered transatlantic aviation. Automobile and space travel, mass production and mass media, civil rights movements and the internet itself, were more a function of the might and wisdom of crowds than the stroke of the enlightened individual or single company genius.
It's just now the digital-enabled 21st century has seen the idea of tapping into crowds really explode. Pundits continue to underestimate its impact. Frankly, this crowd-based movement will likely end up being more meaningful and more sustainable than our recent love affair with social media.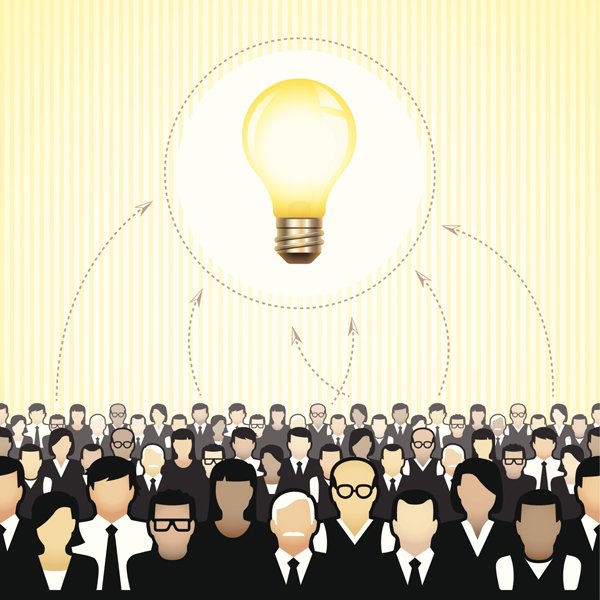 Let's sample the four recent waves of crowd economy's history. Remember the early 2000s and the pioneering, wide-eyed collaborative spirit of Wikipedia, Linux, Mozilla Firefox and XPRIZE in pursuit of collective goals. Then came the mid-2000s minting of the term crowdsourcing and corporate platforms and online communities like Dell Ideastorm, Amazon's Mechanical Turk, Lego Ideas and Local Motors harnessing the crowd's ample ideas, labour, passion and expertise.
From the ashes of the 2007-08 economic meltdown and the tightening of credit spawned the use of crowds to generate alternative forms of crowdfunding and crowd lending in the form of Kickstarter, Indiegogo, Prosper, Lending Club and Seedrs.
And here we are in 2015, and the bright shiny sharing economy has arrived, that leverages an array of underutilized assets for crowd benefit in the form of Airbnb, Uber, NeighborGoods, Fon, Postmates and even Bitcoin. It's exciting to think about what form of crowd disruption will pop up it's head next (although our research suggests the finance industry, health care and business/office services are in its crosshairs).
The crowd economy has not bubbled, it has just begun
Fifteen plus years of crowd movements are pretty strong evidence; the crowd economy has not bubbled, it has just begun. With many of these crowd economy sub-segments are growing annually at rates anywhere between 40 per cent and 165 per cent, there is something much more going on here.
Three defining traits of our culture and marketplace have irrevocably changed to accelerate this global movement to purposeful crowd participation: the rise and generational adoption of entrepreneurial-based, start-up culture; the embrace and destigmatization of freelancing, independent contracting life; and the expansion of global marketplaces and ability to scale crowd efforts quickly. When these trends have met head on with a low cost/high functionality digital ecosystem, crowd ripples have brought entire industries to their knees.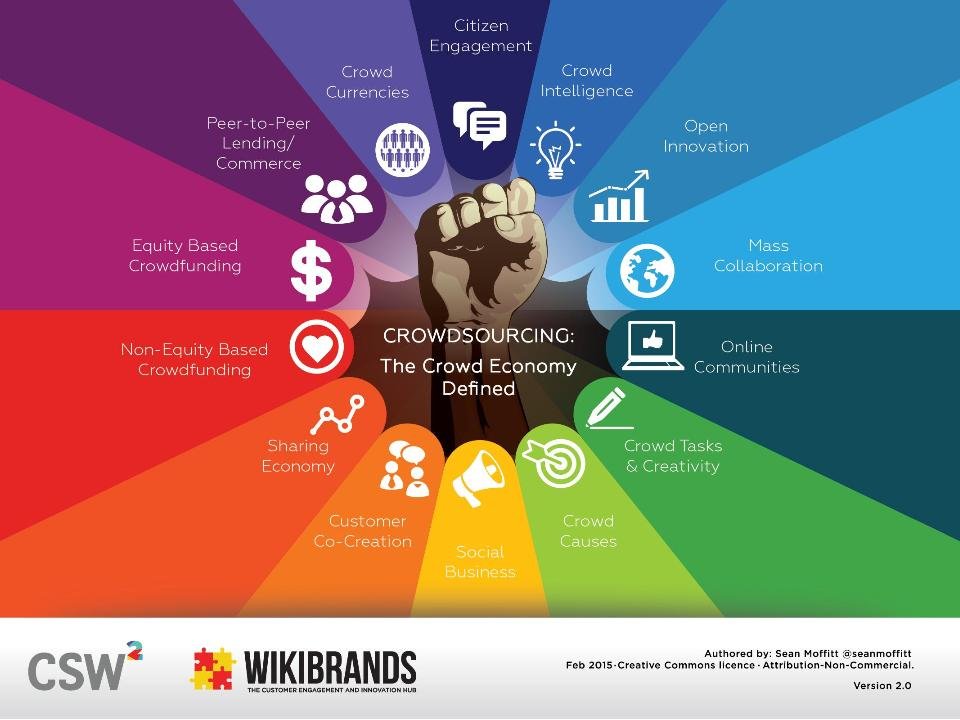 We've attempted to generate a taxonomy for our nascent crowd economy, balancing the need to distill this 'big' crowd universe into its component pieces without getting lost (we have defined 98 further sub-pieces, but that seems like too many for the general observer).
Our effort is borne out of the same frustration and confusion we share with the general public and key crowd stakeholders who feel like they can't see the forest through the trees of the individual crowd ranges, by seeing repeated misuse or misappropriation of crowd terminology.
Regardless of how we define their differences, each of the fourteen crowd economy segments (as pictured above and described below) have five defining characteristics that they all share, with greater and lesser amplitudes:
1. Crowd creation, moderation or contribution – each crowd segment has individuals involved in the delivery of value for either intrinsic or extrinsic motivations, frequently with network effects – where the more people who participate, the better benefit for the crowd and its participants overall.
2. Digital platform – to capture the efficiency of connected technology, each crowd segment mobilizes crowd transactions and exchanges, moderated by a digital forum that in successful cases, employs intelligent use of data, community management, incentives, content curation and aggregation features.
3. Disintermediating the middle man – with each crowd segment, there is a powerful philosophical strain and operational practice that eliminates low value-add parties in the economic value chain that rest between seller and buyer, fundraiser and donor, investor and venture and citizen and government.
4. Authenticity and transparency – whether it be corporate, civic, charity or grassroots crowd efforts, each crowd segment places a premium on the authenticity of people, purpose and practice and making that information open for all to see.
5. Delivery of better value than traditional approaches – the increasing popularity of these crowd segment's ventures, solutions and tools are driven by the recognition that they are cheaper, faster, fairer or simply better than the alternatives that came before them.
Here's our 14 slices of the crowd landscape – from most directly monetary-focused to most directly society/community-driven:
1. Crowd currencies – alternative currencies moderated and balanced by the crowd in a distributed, decentralized and publicly-known manner e.g. Bitcoin
2. Peer-to-peer lending/commerce – direct social lending and socialized commerce between people without a financial or retail intermediary e.g. Lending Club, Etsy.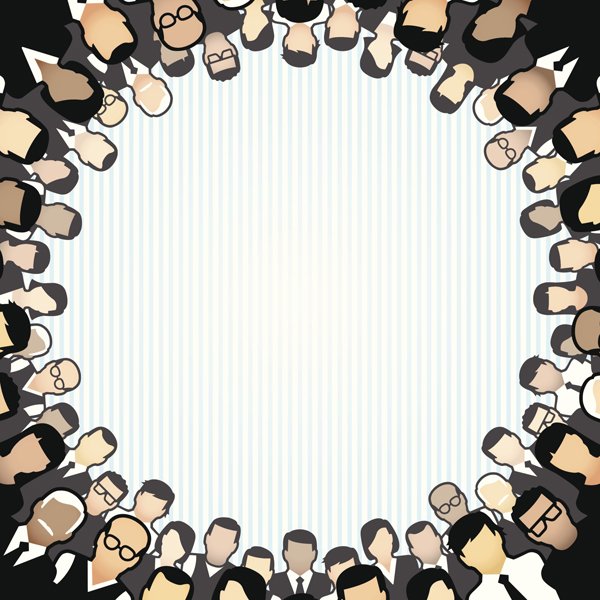 3. Equity based crowdfunding – members of the crowd become part-owners of the company which is raising funds in the form of shares and dividends e.g. Crowdcube.
4. Non-equity based crowdfunding – members of the crowd give money to support a worthy cause or as an exchange for a "reward," typically the product or service that the crowdfunding company produces or provides e.g Kickstarter.
5. Sharing economy – a collaborative economic model built around the sharing of human and physical resources incl. shared creation, production, distribution, trade and consumption of goods, space, travel and services by different people and organizations e.g. Airbnb.
6. Customer co-creation – a partnership between an organization and group of customers, to jointly produce a mutually valued outcome while encouraging a more active involvement from the customer to create a value rich experience e.g. Lego Mindstorms, Threadless.
7. Social business – companies who encourage genuine listening, sharing, engagement and commerce through open, social channels to create value across the corporation or within various functions e.g. Dell, Betabrand.
8. Crowd causes – individuals, not-for-profits or purpose-driven organizations, who engage collectively with passionate and interested stakeholders to raise the profile, impact and fundraising potential of their causes e.g. Charity Water.
9. Crowd tasks and creativity – the effort of obtaining requested labour, services, solutions, ideas, or content by soliciting contributions from groups of people, typically online and geographically dispersed, rather than via traditional employees or suppliers e.g. Amazon Mechanical Turk, Crowdspring, Freelancer.
10. Online communities – groups of individuals gathering and participating on web-based platform(s) and interacting with one another on an ongoing basis driven by a common, tribal attraction for a belief, idea, product, brand, idea, cause or business e.g. Reddit.
11. Mass collaboration – a form of collective action that occurs when large numbers of people work independently on a single project, often modular in nature, that produce shared understandings and outputs e.g. Wikipedia.
12. Open innovation – use of inflows and outflows of knowledge to accelerate innovation inside organizations, and expand markets for external applications, through more permeable, open organizational boundaries and by combining the organization's resources with external co-operators e. Nine Sigma, OpenIDEO.
13. Crowd intelligence – the shared or group intelligence and insight that emerges from the collaboration, collective efforts, group activity and/or competition of many individuals e.g. Netflix, Quora, Kaggle.
14. Civic engagement – digitally-connected platforms and activities to help inform, organize, empower and mobilize citizens, communities, national, regional and global movements e.g. Code for America, Challenge.gov.
Given our prediction of crowd initiatives meshing with exciting new developments in big data, sensors, 3D printing, new business models, social innovation and smart regulation, we're sure this list will be a dynamic one. And what we're also really sure of? Trillions of dollars of shifting economic and societal value rest in smart citizens, entrepreneurs, organizations and governments who embrace the breadth of these crowd flavors enthusiastically and proactively.
The '14 Parts of the Crowd Economy' as described above will be the central focus at Crowdsourcing Week Europe 2015 in Brussels, Belgium from Oct 19-23. Early bird tickets are now available.
This is a guest blog and may not represent the views of Virgin.com. Please see virgin.com/terms for more details. Image from gettyimages.