Where does curiosity lead? In the hands of Google Science Fair, it may very well change the world.
This year marked the second year that Virgin Galactic partnered with the Google Science Fair, supporting the opportunity for students to pursue their curiosity and foster their interest in science, and what an awe-inspiring competition it was!
As an aerospace engineer at Virgin Galactic, I was honoured to judge the 2015 Google Science Fair last week. Twenty-two teen finalists from all over the world were hosted by Google at their headquarters in Mountain View, California where they presented their entries to the judging panel and thousands of visiting students from regional schools. The projects covered crucial fields of study: water purification, pandemic prevention, climate change, green energy, energy storage, aerospace and more. The theme was "What will you try?" and the entries were bold.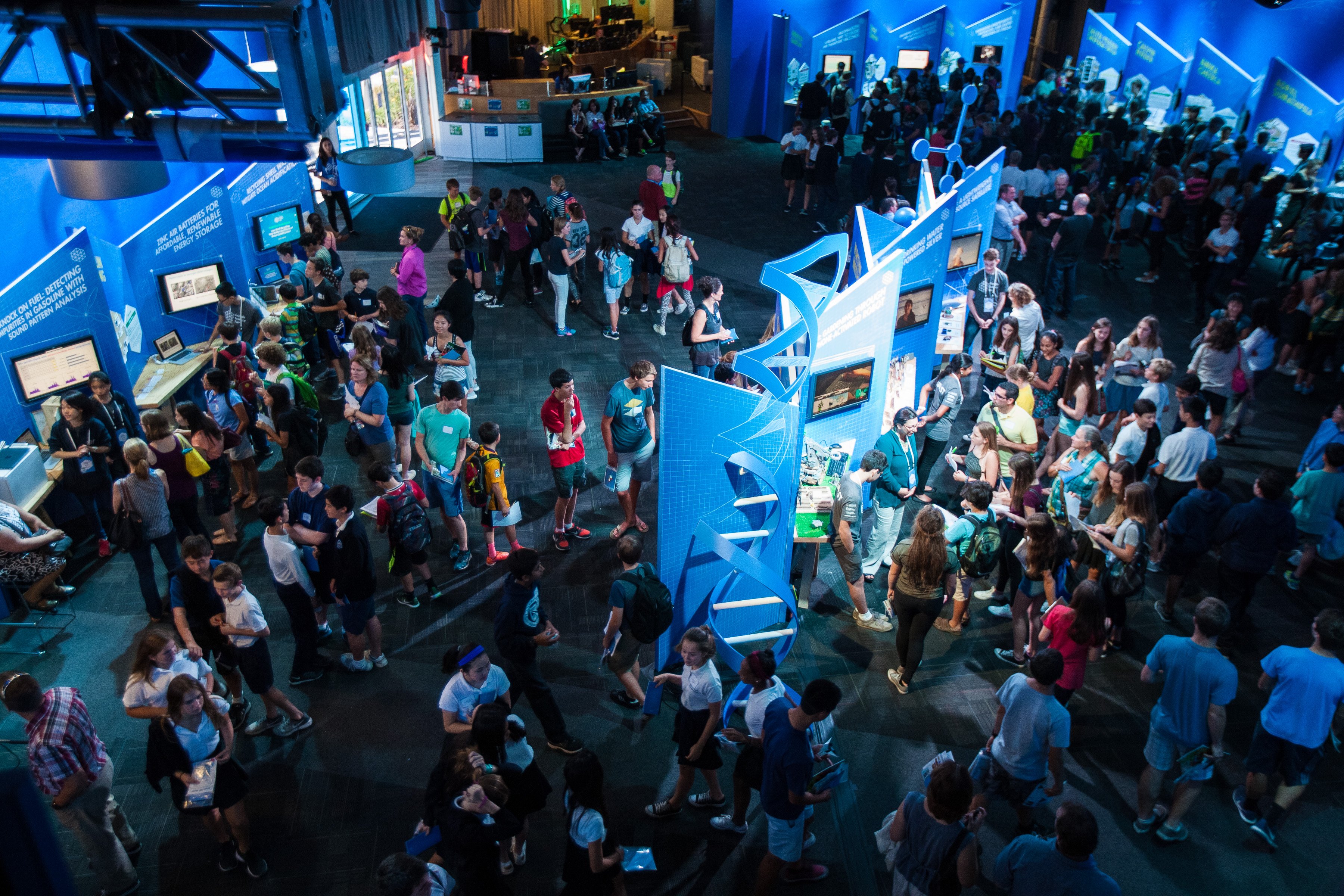 Image from Google Science Fair
The judges first met the teens through a science fair classic: the display booth. In lieu of traditional dioramas, Google set up a high tech exhibit hall with video players, computers, tablets, and lab desks. We circled the room in groups.
The entries were varied. We found a micro satellite, a water purification tower, Ebola detector cards, a biofuel generator, a phone that could read our blood cells, a gardening robot, and - in a move surely designed to turn the tables - a machine-learning algorithm that instantly generated a multiple choice test for us. Ha! Of course the hall also contained a healthy dose of microprocessors, duct tape, cardboard tubes, and LEGO. All of which were attempting to solve real problems in real places. Forget posterboard and baking soda volcanoes, this was the superhero version of a science fair.
Image from Google Science Fair
We continued on day two with formal presentations, podium style. Each finalist, dressed in an official Google Science Fair t-shirt and hoody, presented their inspiration, methods, and findings. Olivia Hallisey of the 16-18 year old age group explained that news of villages devastated by Ebola prompted her to explore ways to dramatically improve Ebola detection tools. She remembered discussing silk proteins in science class and thought she might build a simple heat-proof Ebola detector from that - which she did. It's a silk-paper screening card that doesn't need to be kept cold, works in a quarter of the normal time, and is so elegantly self-explanatory that anyone speaking any language can accurately deploy it. After seeing it, a fellow judge did the classic forehead smack of 'why hasn't anyone thought of that before?!'
Other presenters were motivated by personal callings: one had family history of heart disease, so he engineered low cost phone-and-inkjet screening tools. Another had parents who carried him ten miles for vaccines because heat-sensitive vaccines couldn't come to him, so he engineered a low-cost cold transport cart. Some presenters were regionally inspired: an excess of corn cobs, shells, or feathers were studied for their ability to clean water, balance ocean acidification, and generate fuel. Still others were exploring space systems and the fate of the universe.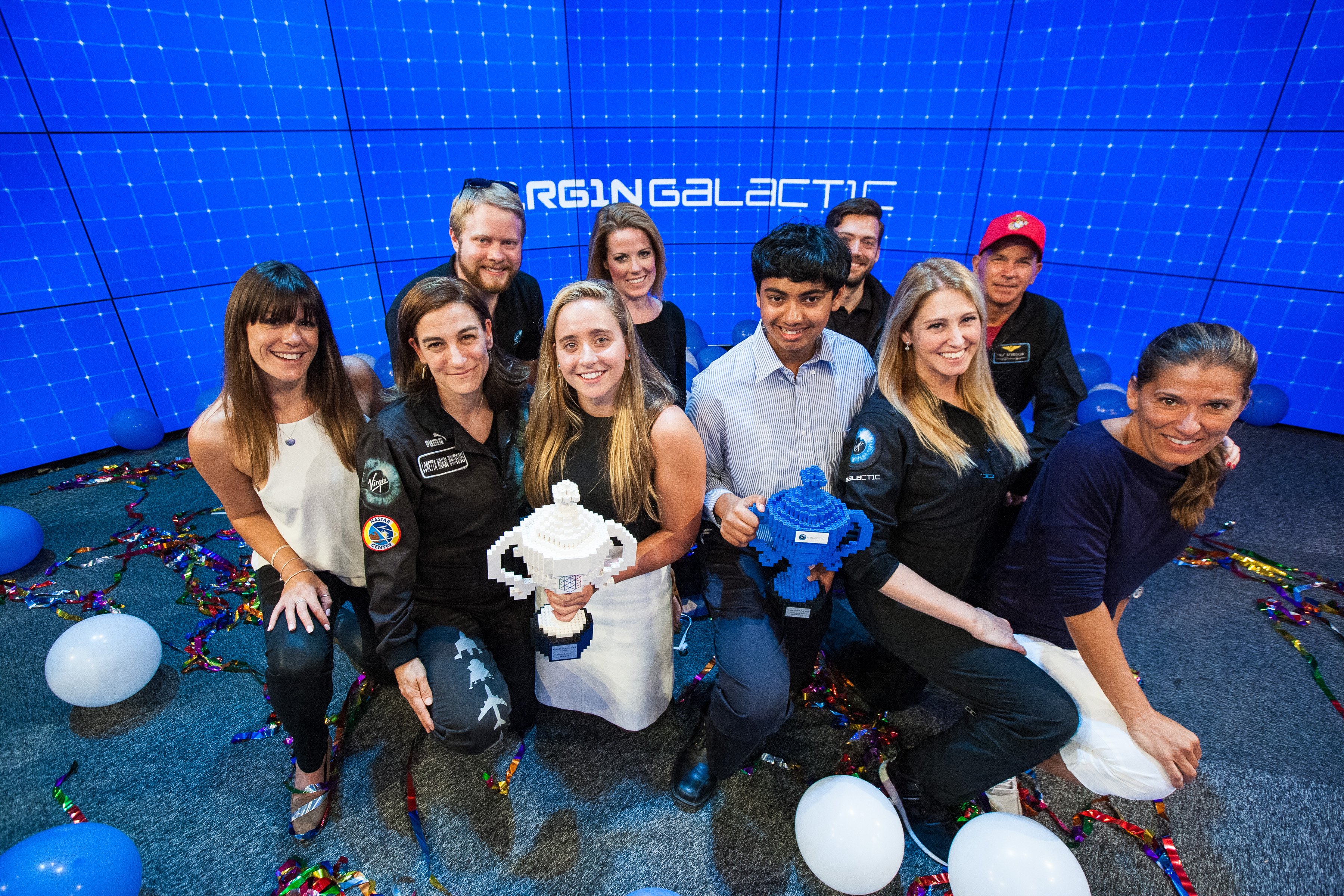 Image from Google Science Fair
All in all the presentations were personal and impactful. The hours clicked by in an impressive flurry of graphs. We probed. We questioned. And we joked about granting degrees.
Instead we bestowed awards - each very hotly contested - on the standouts. The grand prize, with a life-changing $50,000 scholarship from Google and a trophy made of LEGO, was awarded to Olivia for her Ebola detector. The Virgin Galactic Pioneer Award, in the area of space and physics, was awarded to Pranav Sivakumar of the 13-15 year-old group. Pranav wanted to understand dark matter, dark energy, and the fate of the universe. So he created an automated search program for gravitationally-lensed pairs: a teen quasar hunter with a trophy bag of probable new quasars and a blue LEGO trophy. Pranav, our team looks forward to hosting you on your victory tour of Virgin Galactic!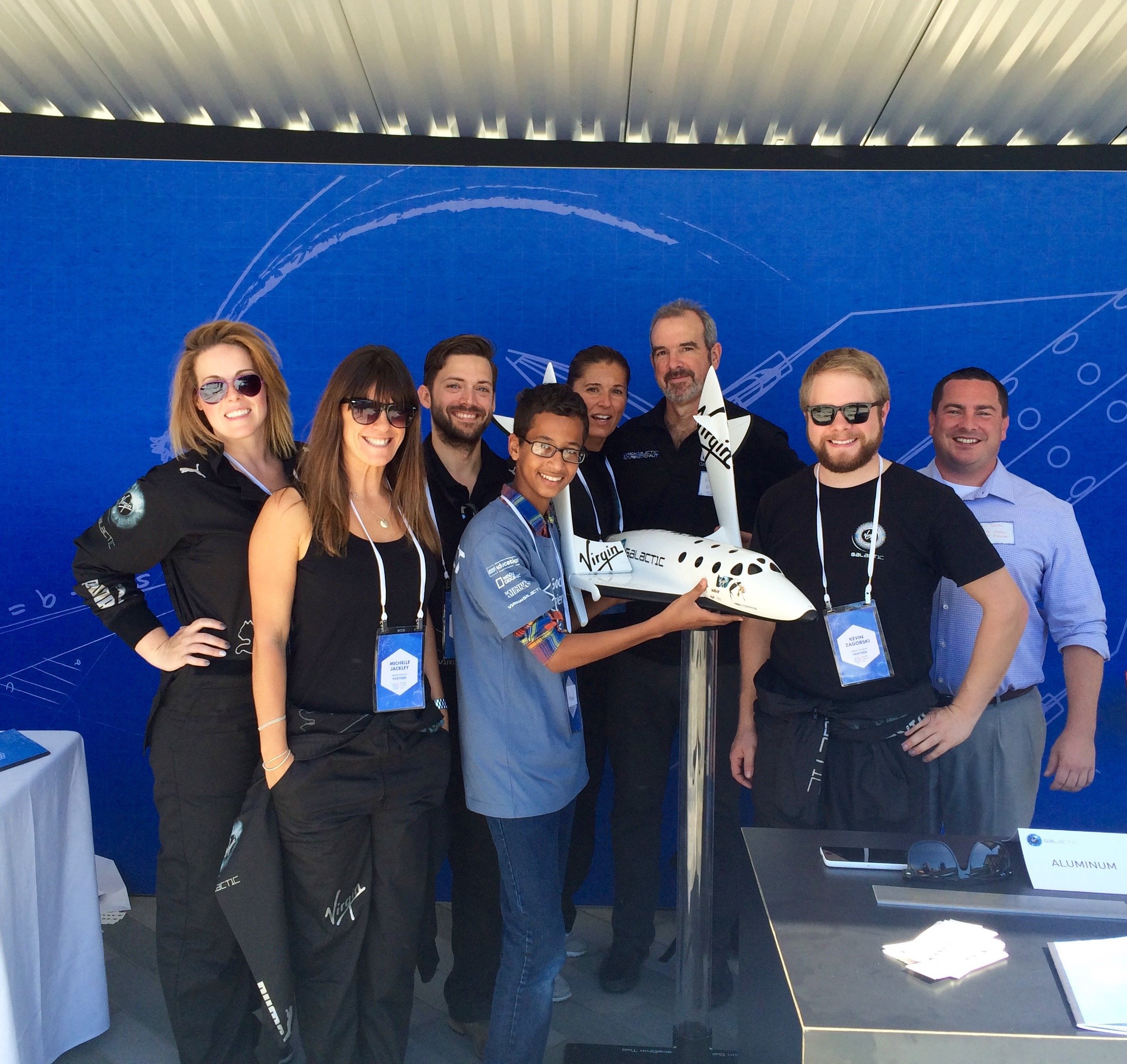 Image from Virgin Galactic
Other scholarships, expeditions, and mentorships were awarded to deserving finalists by Scientific American, National Geographic, and LEGO Education. The finalists' projects were on display on Google's campus to inspire the thousands of adults and children who passed through including 14-year-old clock builder Ahmed Mohamed who stopped by the Virgin Galactic booth.
Well done again to all the 2015 Google Science Fair finalists. Each of you proved yourselves elite. The future is in good hands.
This is a guest blog and may not represent the views of Virgin.com. Please see virgin.com/terms for more details.