With over 750,000 new skilled technology workers needed in the UK by 2017, it's never been more important to teach young people how to code. The team at Apps for Good have taken this on board and are working to
build a new global generation of problem-solving coders who can create, launch and market apps that change the world.
Imagine you are a boy who lives in rural Scotland. Your parents are farmers and part of your day is spent helping them look after the herd of cows that sustain your family's livelihood. Due to disease outbreaks over recent decades, rearing cows is now a highly regulated activity – farmers must keep track of vaccination records for each animal. Your job is to take paper notes from the field and transfer them into the computer at home. You're starting to get extremely fed up with how inefficient the process is. Thankfully, at school you now have the support to build the skills and confidence required to convert your frustrations into digital, problem-solving products.
This was the exact situation facing a group of students in Wick, Scotland before they went on to win the Apps for Good national competition and build Cattle Manager – an app created to easily manage your herd on the go.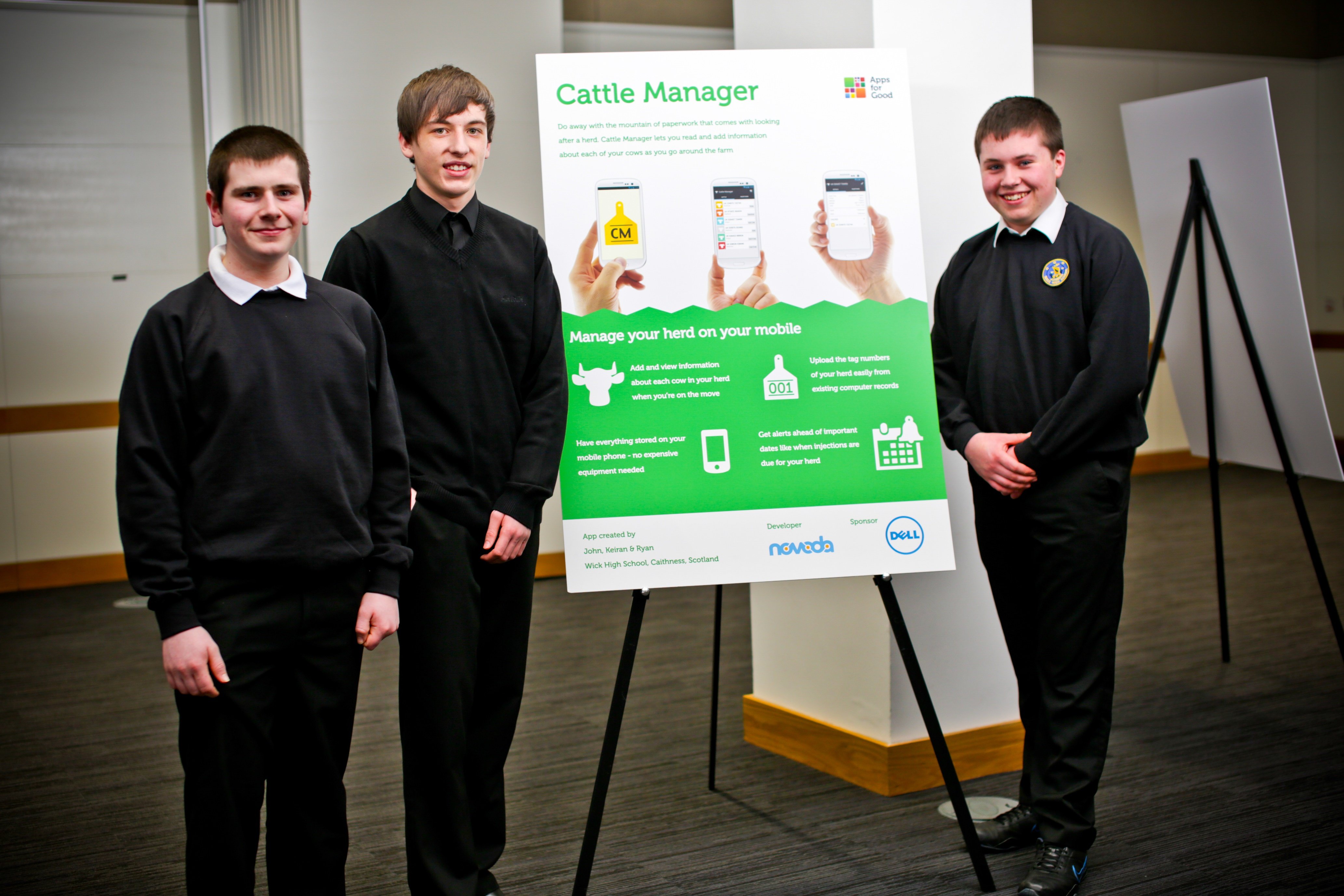 Image courtesy of Apps for Good
Apps for Good is an education technology charity that works with schools to teach students how to build digital products to solve a problem in their communities. Since launching in 2010, over 1200 schools have delivered the Apps for Good course to more than 50,000 students across the UK and internationally.
Learning to code is important for young people as it is a valuable skill required to succeed in the present and future workforce – over 750,000 new skilled technology workers will be needed in the UK by 2017. Teaching coding isn't just about adding to the list on a CV and at Apps for Good we are seeing transformative results by not just teaching coding, but by teaching young people to turn bright ideas into technological reality.
The key rule in Apps for Good is that the idea must come from the students themselves. The starting point for students is their own life experience, their friends, family and the community they live in – ownership of an idea is what drives students' learning forward. Learning how to code is hard and building a great product is hard, but if it's based around something students care about then they are more likely to invest the time and energy.
Image courtesy of Apps for Good
When students create a digital product, their learning should be grounded in the real world. Students should learn to build and test assumptions by collecting real feedback and by working in diverse teams – learning problem solving is relevant to the messy problems of the real world.
By teaching Apps for Good lessons in schools, we reach children no matter where they live or what their background is, and whilst we believe it's important to teach coding, it's equally as important that we grow the next generation of entrepreneurs - young people with the skills and confidence to make a difference to their world.
- This is a guest blog and may not represent the views of Virgin.com. Please see virgin.com/terms for more details.
If you know a school that might want to deliver Apps for Good to their students, share the flyer or send them to appsforgood.org.