Wellbeing implies happiness, fulfillment and harmony being at the center of our working environment. In our quest to find shining examples of this we travel to Eastern China, following the path of an e-commerce start-up which has risen to become a global giant - Alibaba.
"As you sow, so shall you reap". It is a principle relevant to all environments, dynamics and levels of interaction. Corporate culture, employee wellbeing and company performance is one more example of the dynamics and outcomes of this principle in action.
In 1999, Jack Ma gathered 17 of his friends and students in his apartment in Hangzhou to share his vision of conquering global markets. They pooled together their resources of $60,000 and founded a B2B online marketplace, aiming to allow small and medium-sized companies across China to get connected to global buyers. Those were the humble beginnings of an e-commerce start-up that took four years to yield its first tiny profit. But the dream of Jack Ma was too grand to be confined by the walls of that old apartment.
One Thousand and One Nights' later and straight out of the treasure cave of Ali Baba... a modern day legend is born. Inspired by the tales of the Arabian nights, Ma named his company Alibaba. In his own words: "One day I was in San Francisco and I was thinking that Alibaba is a good name. Alibaba 'Opens Sesame' for small-to medium-sized companies. We also registered the name 'Alimama' in case somebody wants to marry us!"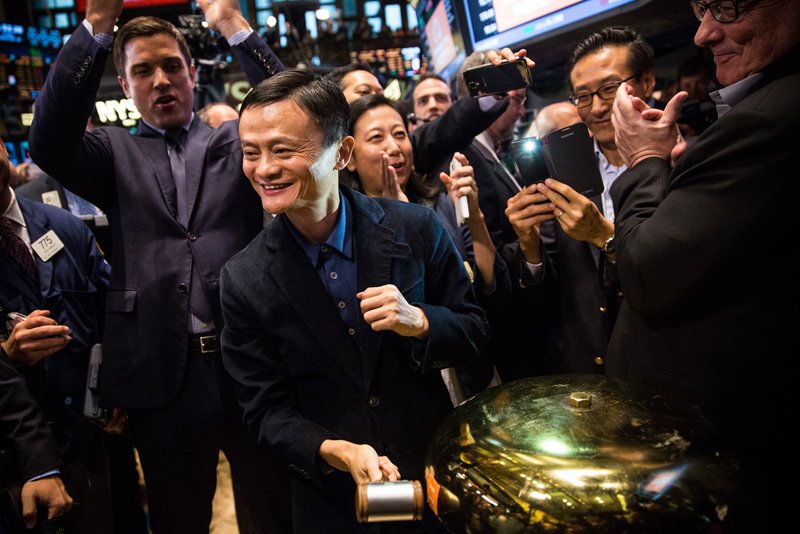 Since then, Alibaba has expanded its corporate 'family' to over 25,000 employees and followed a stratospheric rise that recently achieved the biggest ever IPO in history, reaching $25 billion. To understand the magnitude of this, Alibaba boasts 600 million registered accounts, 100 million shoppers a day, and has created more than 40 million jobs in China.
So, what is the secret formula of the unique company culture and success of Alibaba that turned Jack Ma from an English teacher to be crowned The Godfather of China's global entrepreneurs? Life taught Ma the hard lessons of rejection early on. He has admitted that he was rejected from 30 jobs, failed national university exams, was turned down by Harvard and even failed to get a position at KFC. In a speech at Stanford University, he said that back then "Nobody said that I would be a very capable person that would do something significant or meaningful in the future. I never thought that Jack Ma would have, in the future, a day like today".
His own experience of failure and struggle did not just fuel his fighting spirit, it has resulted in him becoming more faithful in his vision of creating the optimal conditions to enable his closest associates and employees to feel a real part of the rise of Alibaba. The importance of loyalty and building a close-knit team are central in his business philosophy. According to Joe Tsai, Alibaba's vice chairman, Ma is an open and inclusive person that knows how to share.
A truly unique element of the corporate culture at Alibaba is the impact of the myths and legends of Chinese martial arts novels.
Ma loves to infuse his employees with a winning spirit, strong company values and the belief that together they can do and be anything. "We will make it because we are young, and we never, never give up". Those are the exact words that Ma used in the early days of Alibaba to inspire and drive his team. Years of success later, he would add: "We persisted in believing in the future and we have insisted that normal people can do extraordinary things".
A truly unique element of the corporate culture at Alibaba is the impact of the myths and legends of Chinese martial arts novels, which have become an everyday reality for employees. Ma has been thrilled by Kung Fu heroes since he was a young boy, and it was this that shaped his business strategy. He transfers the virtues and strengths of these legends into himself and his employees. Staff even assume nicknames taken from characters of Kung Fu novels. This is not just a fun exercise in the culture of Alibaba but also a method for flattened hierarchy, even those at the top of the corporate pyramid are referred to by their nicknames. Of course, Ma has his own nickname too, Feng Qingyang, referring to a legendary swordsman who was reclusive, unpredictable and aggressive.
Maintaining his vision of being the heart and soul of the company, Ma was never the conventional CEO, religiously sticking to the principle of "living seriously and work happily". He participates in mass wedding ceremonies of his employees that get married throughout each year.
Last year, he blessed around 700 couples in one big celebration party at Alibaba's headquarters. And, when questioned why he might do this, Ma declares that he simply wants his employees to be happy and enjoy life.
Another thread in the material that turned Alibaba from a humble start-up to a global market player is Tai Chi, which is seen as an important part of the company's culture and employee wellbeing programme. In fact, it is key to Ma's strategy and philosophy in life. The ancient martial art of harnessing and directing energy is practiced by employees, and even plays part in the recruitment process. Ma himself is a master of the martial art. He once said that: "Tai Chi is like yin and yang. Life is a stream that flows in different directions. How to channel it, release it, gather it or dissolve it is just how you manage a company".
The eternal truth is that wellbeing dwells within. It is the state that allows us to be receptive, connects us to others and the world. It is the source out of which power, creativity and action emanate from. Certainly, we cannot easily remain unaffected by the accelerated pace of life and work that make our world go round. But, at least we must remember where the real center of our life and balance lies in.
This is a guest blog and may not represent the views of Virgin.com. Please see virgin.com/terms for more details. Thumbnail from gettyimages.