How much of an impact can office furniture actually make to an employee's mind-set? Could it really determine the success of a business? We asked MASHstudios, who we'll be collaborating with for our upcoming debate, to provide their expert opinion...
Picture your office. What do you see? Keep that in mind while you think about what the offices of Google, Facebook, or Uber might look like.
Today's most innovative companies understand the necessity to create spaces that promote positive work environments and encourage employee satisfaction. Furthermore, these companies succeed in creating offices that reflect their unique brand. If your mind's eye first traveled to the old cubicle model or even a room filled with generic, out of the box office furniture, you may have just pinpointed the key hindrance preventing your company from reaching its potential.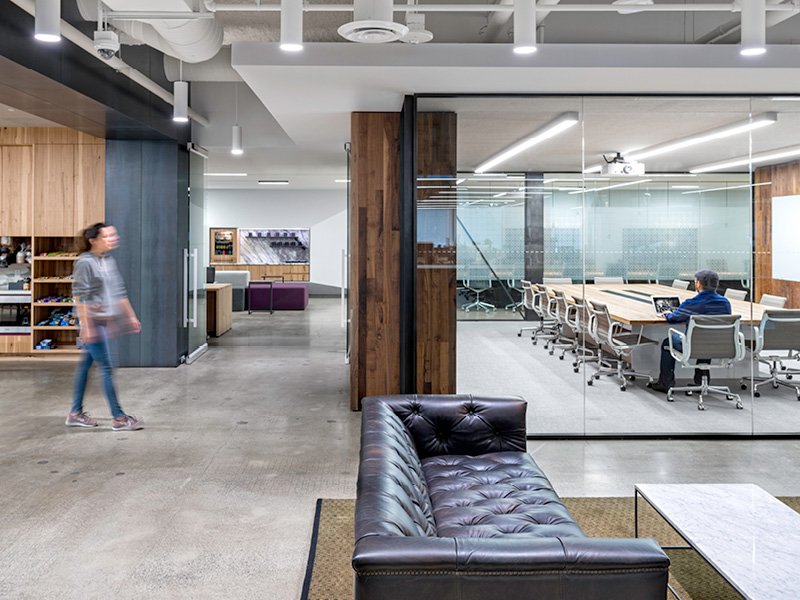 Image credit: Jasper Sanidad and Studio O+A
Employing top tier talent has an instrumental effect on a company's probability for success. The competition to attract and retain these individuals is at its peak. No longer are job hunters looking at salaries alone when deciding which company to join, leading many firms to pull out all the stops to appeal to the best and brightest. When a potential hire enters your lobby, the interview process has begun just as much for you as it has for them.
The first step in appealing to a potential hire is grasping a clear idea of how individuals prefer to work today. While past offices saw staffers fixed to their desks throughout the day, today's workforce is embracing a more mobile approach. One might start their morning meeting with clients in a conference room.
A team might take the afternoon to brainstorm in a communal space. And by evening, an employee might move to a lounge area to relax and rejuvenate before spending the night cramming away at their desk. This constant movement or "office migration" as the specialty furniture design firm, MASHstudios, describes it is paramount when creating an office environment with furniture that allows for various venues in which to work.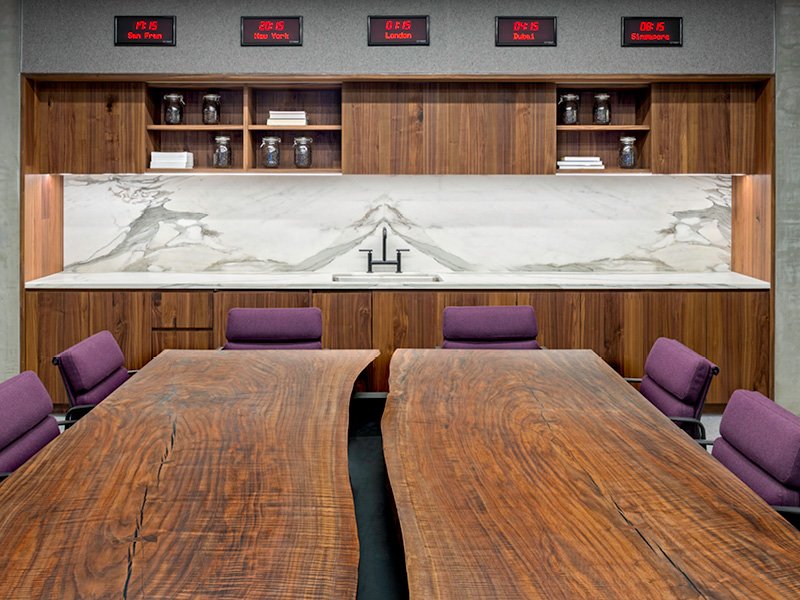 Image credit: Jasper Sanidad and Studio O+A
In the exercise completed above, you envisioned the offices of some of the most influential businesses operating today. Besides an impressive annual profit, what else do these companies have in common? Each one is an expert at conveying their brand on the client facing side as well as internally.
Take GitHub, for example. Initial client meetings highlighted how employees often worked offsite, leaving desks vacant for extended periods. This discovery highlighted a need for benching stations that allow workers to come and go while accommodating a growing workforce.
While GitHub's employees have the option to complete work at their desks, MASHstudios also created more communal areas to promote collaborative work. The company's bars and atrium along with more private sleep cubbies and focus rooms provide even more alternatives for those in need of a different atmosphere. Through its furniture, the San Francisco tech company takes the needs of their staff seriously.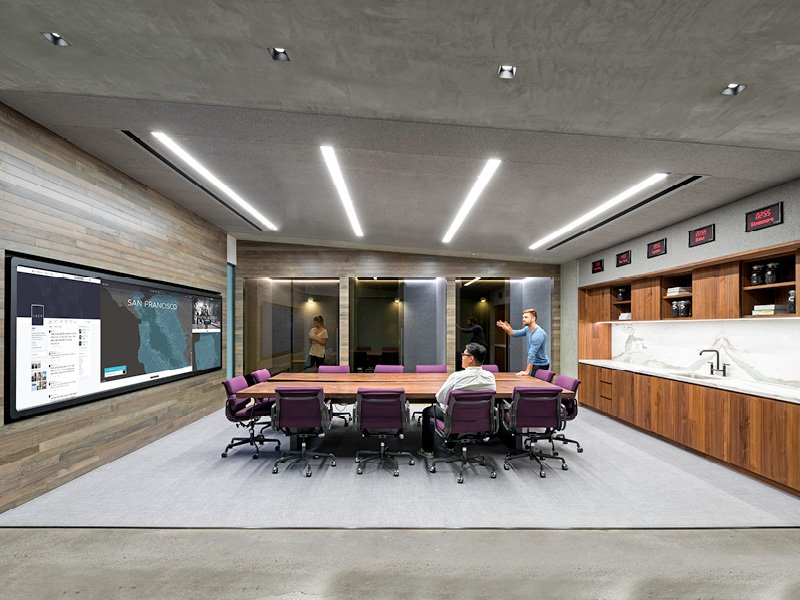 Image credit: Jasper Sanidad and Studio O+A
In a similar manner, Uber brought their company ethos to life in their new headquarters. Throughout the design process, MASHstudios and Studio O+A worked to incorporate materials that would promote the sleek, forward thinking mentality inherent to the brand while also promoting positive workflow. For the office's workstations, side panels subtly incorporate the company's signature Uber X. For their central command area, dubbed the War Room [pictured above], a twelve foot, live edge Claro walnut slab table was constructed. The use of luxurious natural wood paired with strong and sleek steel throughout the office help to push forward to overall brand message of obtainable luxury.
Whereas in the past, furniture was viewed as a utilitarian commodity purchase for the workplace, the evolution of how employees work, collaborate, socialize and innovate has resulted in a dramatically different way of thinking about workplace design. By improving employees' satisfaction, increasing collaboration and building a strong brand identity, creating a space that reflects a company's unique culture with products that are tailored to the needs of employees serves the bottom line. So if your mental picture does not align with your company's goals, change it. It could be the first step in the path to future success.
This is a guest blog and may not represent the views of Virgin.com. Please see virgin.com/terms for more details.