Whether it be connected with health, wealth, safety or sustainability, regulation is one of the mechanisms by which society attempts to influence the development of technology and its impact on the world...
However undue regulation creates costs for an economy with research and development (R&D) expenditure being diverted into dealing with regulatory demands in what has been termed 'defensive' R&D. In addition to these costs there is also concern that levels of regulation will stifle innovation, slowing technological and therefore economic progress.
In a study of environmental, health and safety regulations in the X-Ray equipment industry, it was found that regulations tended to influence managers to select less risky strategies and avoid more radical product innovations, in other words the problem may be less about regulation itself, but the fact that with increased regulation managers believe that they should be more constrained and cautious.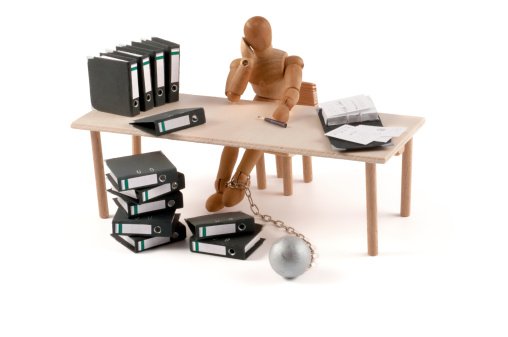 There is however an alternative perspective that regulations are challenges which provide opportunities to be more creative, to find new ways of doing things and to ultimately change the rules of the game. My reason for believing this is that having been involved in studying Formula 1 Motor Racing for much of my academic career I see continued evidence that those who win and keep winning are those who see the opportunities in regulation and regulation changes, whereas there are others who are very good in one particular regulatory regime, but ultimately lose because they do not see the opportunities in regulation change, only the threats, and therefore fail to take advantage of the opportunity for change.
Regulations are challenges which provide opportunities to be more creative
In the early 1960s the British F1 constructors Cooper and Lotus were enjoying prolonged success. Their light, nimble, mid-engine cars were proving to be superior to the competition. Unlike their main competitor, Ferrari, they did not construct their own engines, but used engines produced by Coventry Climax. Climax produced powered water pumps for fire engines which required engines that were powerful, compact, and light, the ideal combination for a racing car application. A total of 697 'racing fire-pump' engines were built and they enjoyed significant success on the track when combined with a Cooper or Lotus chassis.
However, in 1963 the regulatory body - Fédération Internationale de l'Automobile (FIA) announced that the engine regulations would change from January 1st 1966, to allow an increase in capacity from 1.5 to 3.0 litres, a change that would play to the strengths of Ferrari who were already developing a 3.0 litre engine. Coventry Climax made the decision in 1965 not to build a 3.0 litre engine on the basis that the costs would be prohibitive. This left Cooper, Lotus, and a number of other constructors looking for an engine supplier from 1966 onward. Whilst for some this seemed a major threat which would undermine their competitive strengths, for Colin Chapman at Lotus this was another opportunity to change the rules of the game and find an advantage which went beyond simply having a competitive engine.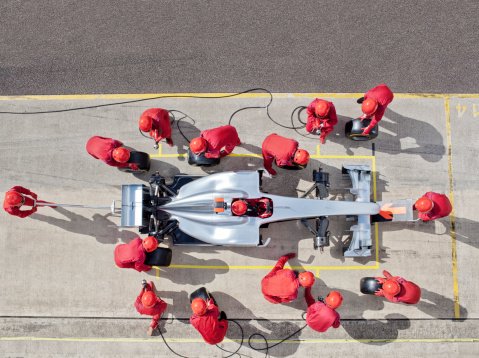 This wasn't a case of just complying with new regulations, Chapman saw an opportunity to create an engine which would give a significant competitive advantage.
Chapman approached two former employees of Lotus: Mike Costin and Keith Duckworth who had set up their own engine development business – Cosworth Engineering - to develop a new 3.0 Litre engine specifically for F1. He then persuaded the Ford Motor Company to fund the project for a cost of £100,000. But this wasn't a case of just complying with new regulations, Chapman saw an opportunity to create an engine which would give a significant competitive advantage.
The engine was developed in parallel with a new car – the Lotus 49 - which was designed to use the engine as a stressed component of the car – in other words this engine became part of the chassis which meant that there was no need to build a structure in which the engine would sit, the chassis ended behind the driver where the engine could simply be bolted onto the rear of the car with the rear suspension and gearbox fitted onto the rear of the engine.
This created a powerful, light, well handling racing car which immediately brought success on the track with Lotus winning the 1968 world championship. During 1968 Ford made the decision to make the engine available to other F1 constructors for a price of £7500. This led to other teams benefitting from the innovation, and created a significant growth in F1 teams based in the UK all using the Cosworth engine which included Tyrrell, McLaren, Williams and Brabham. In 1971 and 1973 every F1 Grand Prix was won by a car using the Ford Cosworth DFV.
This innovation directly led to the growth and development of 'Motorsport Valley', an area of the UK encompassing an arc from Northamptonshire in the north, through Oxford in the west and south to Guildford in Surrey, which has become a focus for anyone wanting to design and construct successful racing cars. Since 1968, with the exception of Ferrari (who also had their design HQ located in Guildford in the 1980s and 90s), every F1 world championship has been won by a car built in this area. The UK motorsport industry is currently worth £9 billion in annual turnover and employs 40,000 people in 4300 companies, all of which are intensively involved in R&D and active in exporting. The growth of this specialised industry can, in part, be traced back to someone not just accepting regulation change as a need to conform, but as an opportunity to change the rules of the game for the benefit of technological progress.
So at the end of the day the problem is not about regulation, but how regulation is seen by those operating in the industry – is it a strait-jacket which limits what we do and makes us even more conservative? Or is it a challenge to be overcome and to present new opportunities for the future of technology and society? You choose.
Mark Jenkins is Professor of Business Strategy and Director of Community: Strategy, People and Leadership at Cranfield School of Management
This is a guest blog and may not represent the views of Virgin.com. Please see virgin.com/terms for more details.