During the week you'll find Rob Bidle working hard as a Customer Service Administrator at Virgin Wines, but come the weekend, you'll find him crafting handmade cricket bats.
Cricket is my passion and I can talk about it until the cows come home. My brother and I used to play on the path leading to the front door and one day, when I was about 11, I managed to smash the ball through the catflap. My mum went mad!
Our drive was riddled with potholes and that's where I learned to put spin on the ball. If you wanted to bowl out your opponent, you just aimed for a pothole!
As a boy, I played competitively in youth cricket, and I played Premier League at county level. But in 2010, when I was 21, I was involved in a serious car accident which made it difficult for me to play. I still wanted to be involved in the game so, I decided to join the 60-year-old men as an umpire! I'm now a fully qualified Level 2 umpire and this is only my fourth season, so I've progressed very quickly.
As an umpire, I try to bring humour to the game because I think some umpires take it a little bit too seriously. You need to have the right man management skills, and be good at decision-making because that's what you're judged on. You also have to be very thick-skinned, as you regularly have people shouting at you. But when you make a decision, you have to stick with it – there's no backing down!
Read: Meet Virgin Atlantic's science loving mixologist
Another way I've extended my love for the game is by making handmade cricket bats. When I was about 15, I started doing little repairs on my own and friends' bats and I made my first proper cricket bat when I was 20. I unsuccessfully applied for an apprenticeship in bat-making after I left university but I decided I wasn't going to give up there. I did lots of research and started learning on my own, then I asked lots of companies if they would apprentice me. I got many rejections until eventually a local bat-maker said yes. I now have a mentor bat-maker in Huntingdon who I visit every few weeks.
Making a cricket bat is a fascinating process, but it can also be incredibly frustrating. Every bat has its own unique characteristics and learning to tell the difference between and a good and a bad bat took a long time.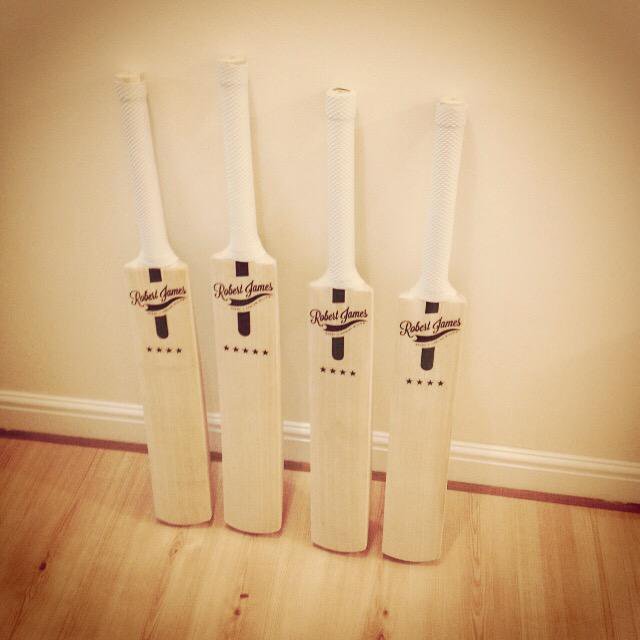 Even my mentor tells me he's still learning and he's been making bats for 55 years – he's classed as a master in his craft.
I would love to be able to do something with my bat-making skills in the future. Handmade bats are a growing market because people value something unique, but it's a labour-intensive process. There's also lots of debate around shape and design at the moment.
All cricket bats are made from English-grown white willow, also known as salix, with a cane handle. A typical bat used to contain about 20 per cent moisture but now it's down to around 11 or 12 per cent – this allows you to create a bigger bat but it's unlikely to last as long. I've probably made around 50 to 60 bats so far, including a few for county cricket players. They've played well with them, so that's always pleasing.
Read: Working for Virgin Australia is a family affair
The process of bat-making hasn't really changed over time, though – it's the little details within the design of the bat that evolve. I guess it's the same with wine-making. I've worked at Virgin Wines on and off for around three and half years, after first starting as a Christmas temp. One of my roles is to handle the wine plan club which involves contact with customers, and lots of background administration.
I didn't know anything about wine when I started but my knowledge has grown on the job. And if I can't answer a customer's question, I always refer them to the wine advisors.
As an umpire, I'd love to be involved in the Australian boxing day test match. I've always watched it as I've grown up, and it would be amazing to be out there on the field. As a bat-maker, I don't mind who uses my bats but I'm always thrilled if someone goes out and scores a ton – whether they're a test match player, or a village player.
Of course, I end up wanting to keep my own bats all the time. It's the hardest thing. If you create a really beautiful, perfect bat, it's very hard to set it free! You just have to tell yourself, this bat is going to make another player very happy.
If you want to experience what it's like to work for Virgin yourself, check out our latest vacancies in jobs of the week.