Just before Christmas last year, Paul Cook, a Virgin Media Fault Technician, got a call to visit an elderly customer in Scunthorpe who wasn't getting any sound out of his TV. What Paul did next was outstanding…
"When I first looked at elderly customer Patrick's TV, I thought it might be a fault with the TV set but, of course, took my kit in to fully test the system.
As I suspected, it was a TV set fault and, even though Patrick thought he'd have to pay, I reassured him there'd be no charge and Patrick was delighted! I felt quite happy with myself, and Patrick was over the moon and couldn't believe he had a working TV again. He told me that he'd be struggling with subtitles for weeks so he told me. I am a Manchester United fan and thought Patrick was too. While we were chatting about football, I made the worse cardinal sin, Patrick isn't a Manchester United fan as I'd thought, he's a Liverpool fan. Whoops!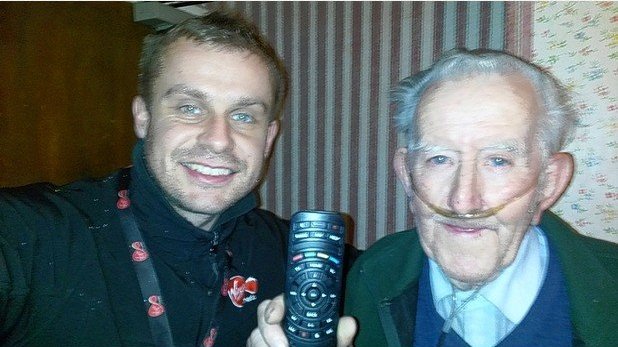 Image from Virgin Media
After I'd left, I couldn't get the guy out of my mind. The idea of leaving this avid Liverpool fan – who lives in one room in a shared house with no family, few local friends and has an oxygen tank – alone at Christmas with no access to his beloved Boxing Day footie, was not an option.
So I went along to the local Age Concern shop and they sent him to the British Heart Foundation. And, although the lovely BHF people donated a TV for our customer, it didn't work when they took it round to Patrick's.
Read more: Working for Virgin Australia is a family affair
It was a real blow, but a lady who happened to be in BHF overheard my conversation. She said she had an old TV for free so long as I could collect it. I called my supervisor Kev French for help. We went round later that day and picked up the TV. It was really big and heavy. But we managed to get it to Patrick's and got it all set up. That's when we realised that this set was also faulty. Patrick finally had sound, but the picture was terrible! At that point, I thought, 'what we going to do?'
We packed up the bulky faulty TV and apologised to Patrick. The whole situation was still niggling me though. So I spoke with my girlfriend Tracey about what we had tried to do and went to bed with it on my mind. I think it was then I thought I would go back the next day to BHF and surprise Patrick. The thought of him at home with no TV had really got me.
I have a granddad who suffers from Alzheimer's, and although he has all of us to care for him and do his odd jobs, he can sometimes go out and forgotten where is. I'd hope someone was decent enough to do the right thing and help him. So as soon as I'd finished my morning jobs I went to BHF and purchased the TV and delivered it straight to Patrick.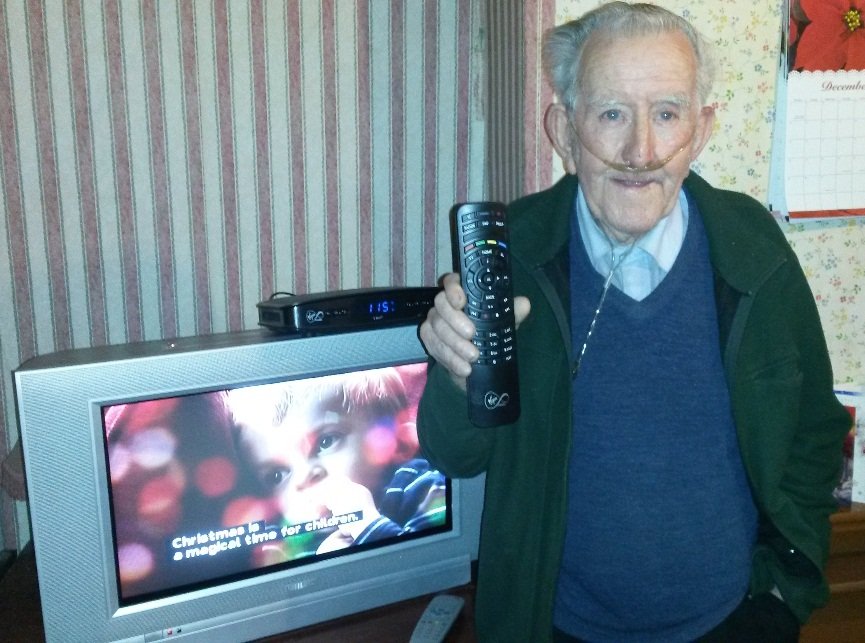 Image from Virgin Media
Patrick was so happy, he didn't know what to say. He asked me a few times if Virgin Media was going to put it on his bill. I told him I had bought it for him and it was gift. He was truly grateful, you could see it in his eyes. He was beyond excited and delighted, with the biggest grin on his face and the longest handshake in history!
Read more: Meet the brains behind DS Virgin Racing
Tracey and I really wanted to do something more for Patrick, so we visited him a few times after Christmas and offered to take him for coffee and cake. Sadly Patrick struggles getting out far due to the trolley with his oxygen tank, so he gets short of breath. Aside from anything else, Patrick seems like the kind of chap who has many a story to tell, so I went to see him a few times in January.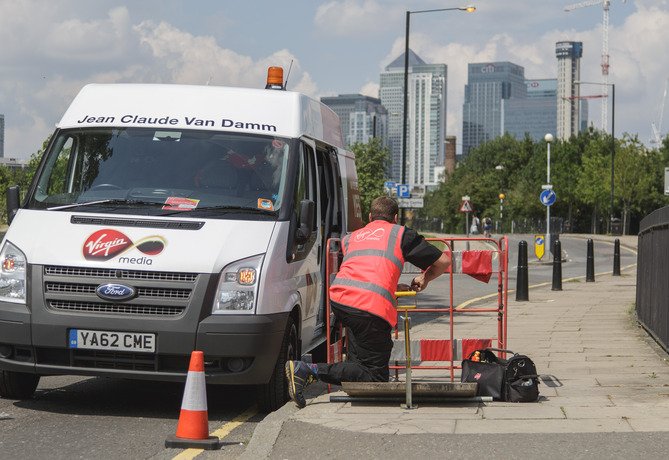 Image from Virgin Media
I've been overwhelmed by all the attention. All the incredibly nice words that people left in the comments on the intranet. My head of department Richard Smith's speech at a meeting made go redder than a baboon's bum!
And it's not just colleagues, my friends have been so keen to hear more about Patrick and the story in general. I never thought anything like this would happen, I thought maybe just a pat on the back from the boss. Which I'd have been more than happy with!"
Are you the kind of person who goes above and beyond for your customers? Apply for the latest roles at Virgin...